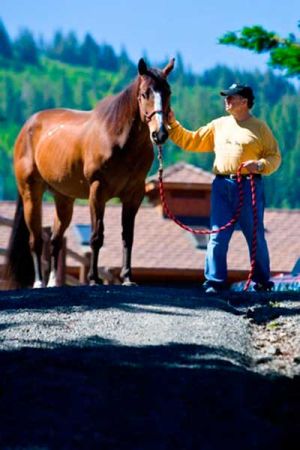 TheReflector.com - Full Article
Wednesday, June 5, 2013
Devin Higgins staff reporter
The drive past the cast iron gates down the 1/4-mile entry into the Mustang Mountain Ranch is often the best part of Chuck Cowan's day.
"When the sun's out and it hits all the trees along the driveway, that's one of the prettiest places on Earth," the ranch owner said.
After time spent first in the Army, then operating a successful heavy construction consultation business for the last 15 years, Cowan decided he wanted to get back to his roots.
"I was actually born in my family's farmhouse in Georgia and grew up riding the mules we used to pull the plows because we could only afford one tractor," Cowan said. "I would spend my days working with the sharecroppers and just loved it, so it was always in the back of my mind to create something similar when I was old enough."
Over 53 acres in Yacolt, Cowan and his wife Annette have created a refuge for horses, with everything from riding trails to grazing pastures, a massive indoor competition-style riding arena, grooming bays, and riders with a guesthouse, fitness center, lounge and RV park.
"What I want is for the Mustang to be a place for people to come to from everywhere to spend time with their horses," said Cowan. "The other goal is to be established as a top-quality rehab facility for horses where they can be brought to, treated and recover in a rural setting they can thrive in..."
http://www.thereflector.com/horse_corral/article_2fe9294a-cd49-11e2-94a9-0019bb2963f4.html