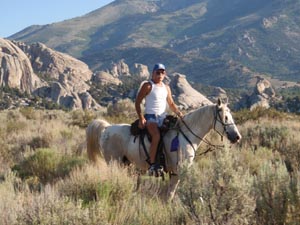 June 27 2013
After sustaining a serious head injury on December 30, 2012 in the Death Valley ride in California, surgery, and a long convalescence at his home in Nevada, 2009 AERC Hall of Fame endurance rider Dave Rabe returned to the saddle when he completed the 3-day Strawberry Fields Pioneer endurance ride in Utah on June 21-23.
Fellow endurance riders were delighted to see him back on the trails (marking trail, competing in the ride each day, and then unmarking trail), and wearing a helmet, a new part of his traditional attire (shorts and 'wife-beater' Tshirt, no matter the weather). Dave's nickname used to be "Hosebag," but it was affectionally changed to "Crackhead" since he cracked his head while not wearing a helmet.
Dave's lifetime endurance mileage now stands at 56,800, and the endurance community is thrilled to see that number will continued to grow for a long time.