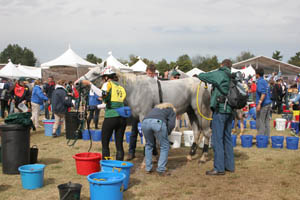 Thehorse.com - Full Article

The best ways a rider can reduce the risk of fatality is to be in tune with their horse, manage him properly through the ride, and voluntarily withdraw when their horse is not performing as expected, Schott said.
By Nancy S. Loving, DVM Feb 28, 2016
"Endurance" is an aptly named riding discipline. The sport requires horse and rider to complete more than 50 to 100 miles of trail in a single day. Depending on the competition type, terrain, and climatic conditions, horses might be actively working anywhere from six to 24 hours. Because of the nature of the sport, dehydration, electrolyte imbalances, and heat stress can arise, sometimes leading to fatalities.
To investigate causes of fatality in endurance horses, Olin Balch, DVM, MS, PhD, of North Fork Veterinary Service, in Cascade, Idaho, and Hal Schott II, DVM, PhD, Dipl. ACVIM, professor of large animal medicine at Michigan State University, reviewed 13 years of endurance ride veterinary reports. Schott presented their findings at the 2015 American Association of Equine Practitioners Convention, held Dec. 5-9 in Las Vegas...
Read more here:
http://www.thehorse.com/articles/37197/examining-horse-deaths-related-to-endurance-rides