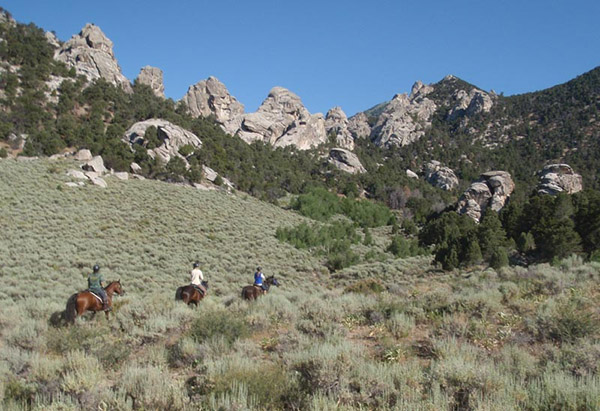 Wednesday May 8 2019
Idaho Ironhorse Challenge: One Horse & Rider, 9 Days, 465 Miles
What are you and your horse made of?
You're just a month away from the first leg of the Idaho 'endurance Triple Crown': the Idaho Ironhorse. This ultimate endurance riding challenge consists of all 3 days of
City of Rocks Pioneer
June 6-8 in Almo, Idaho; all 3 days of
Top O The World Pioneer
July 26-28 near Spencer, Idaho; and all 3 days of the
Autumn Sun Pioneer
October 11-13 near Gooding, Idaho. Ride the California Trail, the Continental Divide, and the Magic Valley. It will test your horse's ability and your management skill as a rider whether you are riding LDs or 50s.
Rules are: get a completion with the same horse, same rider, same distance, ALL NINE DAYS of City Of Rocks Pioneer, Top O The World Pioneer, and Autumn Sun Pioneer. That's the whole challenge!
Beginning Friday, June 6, and offering a 25 or 30, or a 50 or 55 every day,
City of Rocks Pioneer
trails traverse City of Rocks National Reserve and Castle Rocks State Park.
Basecamp is in a meadow at 5000' outside the park. The trails are challenging with elevations up to 6700' on Day 1, and 7500' on Days 2 and 3. Footing is very good though, very little rock (except for the scenery), some gravel road, lots of single track in the mountains and jeep roads and cow trails through the BLM land. 
Amenities, you ask? Almo has THE BEST pizza (and an amazing beer collection) at Rock City, a nice steak house at the Almo Inn, and don't forget the hot springs/pools every night at Durfee Hot Springs!
And
Juniors ride free
in every leg of the Idaho Ironhorse!
If you know you are coming to City of Rocks, please pre-register with Regina Rose at
rrose4u2002@yahoo.com
so we have an idea of the numbers coming.
All information for City of Rocks, including trail maps, photos, videos, and stories, can be seen here:
http://www.endurance.net/international/USA/2019CityOfRocks/
For more information on the Idaho Ironhorse challenge, see:
https://www.facebook.com/idironhorse/