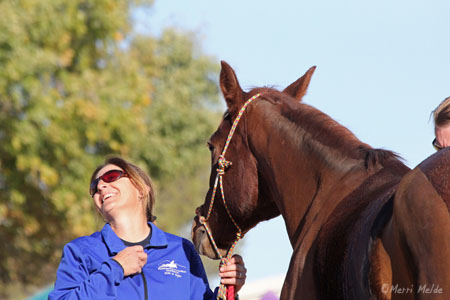 by Merri Melde-Endurance.net
November 19 2019
Receiving the Best Condition award for the 2019 AERC National Championship 100-miler in Ridgecrest, California, was a perfect ending to an outstanding endurance season for Dr. Jeanette Mero's mare Ozark Kaolena SWA. In the November 1st ride, Jay and Lena finished fourth in a ride time of 12:10, and next morning the mare was judged to be the best of the seven Top Ten horses showing for the BC award.
Most remarkable, this was Lena's first season of endurance. The 7-year-old mare, by Kaolino X FMR Ozark Eklipse, by Cassels Roszlem, has achieved a record of 20 finishes in 21 rides, four of them wins, and two Best Conditions. Earlier this season they had easily satisfied the entry requirements for the National Championship, of 500 lifetime miles each (Lena now has 1110 miles; Jay has 5760), including completion of either a Pioneer ride together (they did several) or a 100-mile ride together. That was fulfilled with a 17th place finish in the Tevis Cup.
Lena was a former winning racehorse at four and five in Texas and California for breeder/owner Dr. Jim Wetsel and trainers Ken and Valerie Danyluk. A friend of Jay's recommended Ozark Kaolina SWA as a prospective endurance horse; Jay put a deposit on her and another colt, and made a trip to Texas in March of 2018. "When I got there, the mare was everything that her picture showed - her body conformation is quite nice. She's got a lot of depth and she's very correct," Jay said.
"So I basically met them, met the horse, put her in the round pen and said, 'Yep, I'll take her!'
"She went into heavy training with me and didn't come out to an endurance ride till Death Valley nine months later. And she did a lot. I would use the XP rides to basically prep, harden, toughen her up, to get her ready for longer rides."
As the 2019 season progressed, Jay knew she had a mare with not only a wonderful mind and a desire to compete, but one with great recoveries. That became evident on the Tevis ride.
"Most of the racehorses are reasonably good with their heart rates and recoveries, but you never know. I have never, ever had one that was having recoveries like this mare was," Jay said. "She was coming into Deadwood, Chickenhawk, and - boom - her heart rate was down to 55. It was ridiculous!
"Her pace is just very methodical. Basically my plan for this Championship ride was, ok, she's already spent almost a whole year doing a lot of sand work, which is perfect for this desert ride. And I was just going to ask a little bit more from her on pace - we'd been anywhere from eight to nine miles an hour - and the rest of it, we're just going to see what happens."
What happened was a lot of riders may have underestimate the course - which looks deceptively easy, and may have started out too fast in the beginning, and had less horse left at the end. (36 of 67 completed the 100-mile Championship.) After the 65-mile loop, Jay had a horse that was raring to go. "We left the 65 mile hold in eighth place. We had to go up a very long deceiving grade, and that's where we caught seventh place, and then sixth and fifth place.
"At the last hold [at 90 miles], Lena immediately came down. She was just a freak all day - a minute, two minutes [to pulse down]. CRI's of 50-50, 48-48. It was crazy!"
The last 10 miles was a repeat of what they'd done on the first loop, and Lena was feeling great, so they went for it. "We left at a canter. And the mare had so much gas, it was so much fun. And we did that same loop at the same speed we did it in the daylight, in a little over an hour."
They crossed the finish line in fourth place at 9:20 PM. "Her finish CRI was 48-48. I mean, you could've picked me up off the floor."
Just as astonishing was the announcement of the Best Condition winner the next morning by head veterinarian Dr. Michael Peralez: Ozark Kaolena SWA. "I knew the mare showed well," Jay said, "but I didn't really even factor into it. So it was just like - WHAT!?"
Actually receiving the award may have been a surprise, but during the ride it became a goal. "I'd say it was about after the 65-mile hold where my brain started thinking, ok, we're not going to go for a win, of course - I'm not going to burn this horse up - but, you know, let's be careful and cognizant of BC.
"And we had talked about that earlier in the days and weeks before. We knew we were not going to go after it for a win. I did not want to take that mare that speed. But there had been, in the back of my mind, if we did get high enough up in the overall Top Ten that maybe we would make an effort at BC."
Lena's entire season had been carefully orchestrated. "Like I said, I picked her up in March of 2018, and didn't even bring her to a ride till nine months later, and she was just working, working, working at home getting ready. It was methodically planned out.
"It was a great season, and she's a great mare."