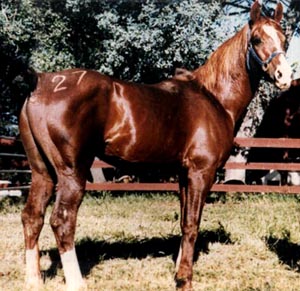 His descendants finish first and third in the 100 mile Championship
by Merri Melde-Endurance.net
November 15 2019
The legend that is endurance stallion Sierra Fadwah+/ carried on at the 2019 AERC 100-mile National Championship in Ridgecrest, California, on November 2.
Winner of the 100 miler in a ride time of 10:51 was 12-year-old RTR Rimfires Etta, a granddaughter of Sierra Fadwah; and third place, by 14 minutes, was 11-year-old RTR Thunders Nusabre, a grandson of Sierra Fadwah and half brother to Etta.
Sierra Fadwah+/ was bred by Bob and Lorry Wagner of Sierra Dawn Arabians in 1973, and purchased by Jim and Jackie Bumgardner of Ridgecrest as a 7-year-old in 1980. By Fadjur out of Judhi - a full sister to another endurance legend and sire Bezatal - the Bumgardners started Fadwah in endurance, where he proved to be exceptional.
He completed his final ride at age 21 in 1994. Over his 15-season career he carried more than 30 different riders in 87 starts to earn a record of 7280 endurance miles with zero pulls. He earned the Jim Jones Stallion award in 1983, the Legion of Honor award in 1984, and was elected to the AERC Hall of Fame in 1992. (Sierra Fadwah's son Sierra Fadrazal+/ and Jackie were given the AERC Pard'ners Award in 1998; "Ross" garnered 8500 AERC miles over more than 20 endurance seasons, including 4 consecutive Tevis finishes).
Sierra Fadwah died in 2004 at age 31, but his get continue to tear up the endurance trail. The gelding Fire Mt Malabar (Sierra Fadwah X Malabar Dawn, by Malabar Amir) continues to compete for Lee Pearce and Naomi Preston of Oregon at age 20 with over 8100 miles. Fire Mt Zoom+/ (Sierra Fadwah X Rushcreek La Hand, by Cougar Rock), 2016 AHA Distance Horse of the Year, continues to compete for Marci Cunningham of California at age 18 with over 5600 miles.
RTR Rimfires Etta is owned by Dublin "Tinker" Hart and her mother Kay Matthews of Nevada. The mare was ridden by regular partner Jeremy Reynolds of Dunnellon, Florida. Etta's sire is RTR Rimfire, a son of Sierra Fadwah, owned by Tinker. She bred and raised and trained Rimfire, and contributed 275 of his endurance miles during his 7 seasons of endurance, where he earned 1610 miles and completed 31 of 36 starts. He continues to stand at stud at Tinker's Running Thunder Ranch in Wellington, Nevada.
Tinker purchased the mare PS Sierra Sage from LAS Racing Arabians in Fernley, Nevada, and bred her to Rimfire, resulting in the bay mare RTR Rimfires Etta. Tinker foaled and raised her and advanced her through her FEI qualifications in endurance. Jeremy took over riding her in 2019, adding three 50-mile wins, and a second place in Tevis, to her record this season before winning the AERC National Championship 100. Her current AERC record stands at 30 completions in 34 starts, and 1565 miles.
14-year-old Caroline de Bourbon, of San Leandro, California, rode RTR Thunders Nusabre (RTR Rimfire X PS Donnas Star, by LAS Seykret Agent) to a third place finish, in Caroline's first 100-mile ride as an emancipated Junior. It was their third ride together; their previous partnership resulted in a 14th place finish in the Tevis Cup this year. Nusabre is owned by Bill Whitlock, also of San Leandro.
Countless other grandsons and granddaughters of Sierra Fadwah+/ are still active on the endurance trails.
Sierra Fadwah's Hall of Fame plaque sums up this great horse:
"Many of the stars we see in the night sky died millions of year ago, and yet we see their light. So it will be with Sierra Fadwah+/ . His greatness will shine on for future generations of equestrians through the memories of those who loved him and the continuing performance of his offspring. Sierra Fadwah+/ is truly a star in the constellation of endurance performance."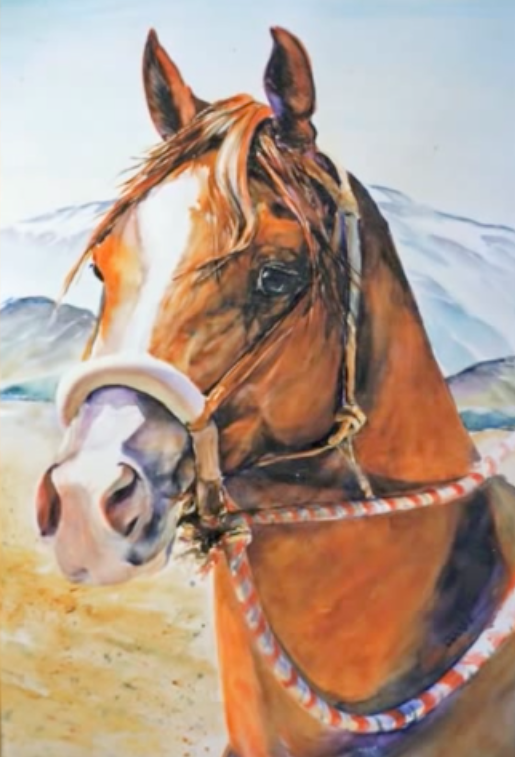 More photos and stories on the AERC National Championship are at:
http://www.endurance.net/international/USA/2019AERCNC/