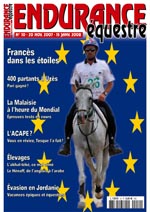 Jean Phillipe Frances of France, Gold medalist at the 2007 Endurance Championship in Portugal, is on the November-December cover of the French endurance magazine,
Endurance Equestre.
Frances, riding Hanaba du Bois on September 8, 2007, finished second in the Open Qatar Challenge and captured the indivual Gold in the European Championship.
Merri Melde
, roving photojournalist for Endurance.net and EnduranceEurope.net, took the photo.