Frederick News Post
November 14, 2007
By Adrienne Lawrence,News-Post Staff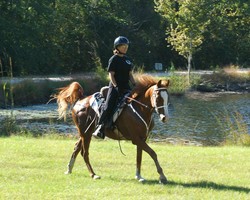 Photo by Grookett Photography.
Kim Orr and Luke recently took first place in The Hallelujah Benefit Race, a 100-mile event in Rhode Island.
NEW WINDSOR -- Chewing his hay, carefully eyeing passersby, and neighing to make sure he's heard, Luke is king of his stable.
Luke is a champion endurance racer -- he's won all four of the 100 mile races his owner, Kim Orr, has entered him in. But Luke hasn't always had the pleasures of food, shelter and tender loving care.
He was starved and neglected by his previous owners and survived only thanks to Days End Farm Horse Rescue. In April 1999, Luke's weight was at a dangerously low 700 pounds and he was rather small for a Crabbet and Russian-mixed Arabian at 14.1 hands.
Over the next five to six months, he gained 280 pounds and grew another hand, or 4 more inches, going from pony-sized to a full-grown horse. What was unusual, Orr pointed out, is that most horses reach their tallest at about 2 years old. Luke was 6 years old and should have been at full height.
Now, Luke is a known champion. A few weeks ago he ran a 100-mile race, The Hallelujah Benefit Race, in Rhode Island, and took first place, said Troy Smith, spokesperson for American Endurance Ride Conference, the official U.S. organization for endurance riding.
"There is something about the way they move and the way they look," Orr said. "With Luke, I didn't know his genetics, but I knew there was something about him ... He came from hard luck, he's going to give you all he's got."
Orr has noticed that when other people ride him, Luke doesn't perform well. But when she rides him, he gives her 110 percent. Laughingly she said some on the farm call him a "momma's boy."
Orr believes the bond she and Luke share is the reason he competes well in races -- he knows Orr loves him and feels completely safe with her.
At her A.O.K. Farm, Orr implements a well thought-out training plan for her 13 horses, four of which are race ready. Going against the grain, she takes training a little bit easier, focusing on not just the distance, but also intervals, the type of ground they are running on and their gear. She has the best saddles, shoes and trainers.
It's not just the horses that go through training. The riders do also.
To keep herself in shape, Orr runs 20 miles a week, lifts weights, practices yoga and does pilates, in addition to the work that she does on the farm and the 10-hour days she puts in as a hairstylist.
She wasn't always so fit or ready to ride. A year ago, she was riding another horse, Chase, on her farm, just after he was broken. He bucked, she jumped off and broke her hip. The doctors said she had a 5 percent chance of being able to keep her own hip.
Orr was told that she wouldn't be able to ride for a year and that she'd have to learn how to walk again. Six months after the accident, she was riding again.
"Why was I able to ride in six months? Because a lot of people were praying for me," she said.