Cordia Pearson
Society of Master Saddlers Qualified Saddle Fitter
www.saddlefitter.com
When ThinLIne asked me to test their product, I did so with no preconceived notions.
For three weeks, I rode two of our Morgan stallions, both with correctly fitted saddles. One day with the ThinLine, the next without. Every time the ThinLine was on board, my boys' gaits swung more, their backs were consistently up and my aids were more thoughts than actions.
These are some of the conditions that can be addressed with ThinLine pads:
Young horses: With their growth so unpredictable, we protect a developing back while keeping the young horse's saddle balanced with the Cotton Comfort and Sheepskin Comfort pads (using the appropriate shims.) No more changing the flocking of the saddle every few months. No more unbalanced saddles (low in front) driving the points into the growing horse's back. And it saves money!
Rehab horses: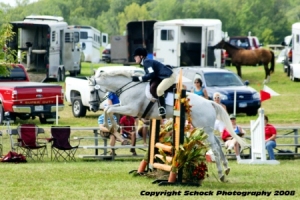 Pictured here is one of my favorite 2008 rehab story, an Eventing Thoroughbred. When I first me Navarre, he was in a gorgeous saddle sadly two tree sizes too small. He had severe muscle wastage under the saddle points and his back was very sore to palpation. We got him fitted with the correct width of saddle and added the ThinLIne Sheepskin Half Pad. Two days later, he was at Trott Brook, our largest Event in MN. He placed fifth in a large field with Sieren Peterson on board. But even more gratifying, a month later when I rechecked him and his new saddle, Navarre's back was not only healed, but turning into a gorgeous field of new muscle.
Photo by Schock Photograpy
.
New riders or riders in the process of losing weight: In both cases, with the use of the ThinLine pad, 95% of recoil is diverted from the horse's back. I try to get all my school horses outfitted with the 202 ThinLine pad for just this reason.
Riders with back problems: The Ultra ThinLIne offers the rider same recoil removing qualities as the ThinLine does for the horse.
Saddles on round horses: Lateral stability is everything in the horse's back growth and the rider's security. Even with appropriately shaped trees, give the round backed horses and ThinLine pad and girth and the saddle stops rolling.
ThinLine Pads
are a gift to horses, riders and saddle fitters!