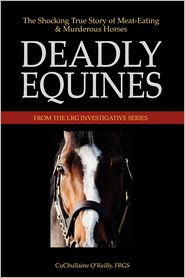 Deadly Equines: The Shocking True Story of Meat-Eating and Murderous Horses
September 3 2011
There is widespread belief in a warm and comforting story which states the horse is a gentle herbivore. What if it could be proved instead that throughout history horses have had the biological capability, and desire, to consume a wide variety of meat?
An international multi-million dollar industry serviced by horse whisperers, glossy magazines and popular culture preaches that horses are meek prey animals who fear predators. What if evidence demonstrated horses have slain lions, tigers, pumas, wolves, hyenas, and humans?
Contemporary writers have successfully airbrushed murderous and meat-eating horses out of literature. What if Shakespeare, Sherlock Holmes and Steve McQueen provided artistic evidence to refute that claim?
Thanks to wide-spread equestrian amnesia, the vital role played by horses in recent history has been lost to mankind. What if vital testimony revealed meat-eating horses had been used to explore the North and South Poles?
What if six thousand years of equestrian wisdom had been misinterpreted or buried? What if a Rosetta Stone had been found to unlock the dark secrets of the horse's past?
Deadly Equines is a revolutionary departure from equestrian romance. It is a fact-filled analysis which reveals how mankind has known about meat-eating horses for at least four thousand years, during which time horses have consumed nearly two dozen different types of protein, including human flesh, and that these episodes have occurred on every continent, including Antarctica.
Various sources of corroborating data, including legends, literature, cinema, news stories, scientific reports and eyewitness accounts are presented for the reader's investigation. None of these items had been hidden. They had instead been ignored, misunderstood, or in some cases, censored.
The result is the first exploration of the horse's hidden history, an alternative equestrian world populated by forgotten facts, overlooked evidence and astonishing stories. Amply illustrated, and containing a map of occurrences, this shocking study challenges the reader to develop a new understanding of the horse, one based upon reason, not fantasy.
What Critics Are Saying
"A thought provoking and challenging insight into an aspect of equine nature that we are unwilling to even acknowledge."
Garry Ashton-Coulton - Art Editor, Horse & Hound magazine, London.
"The renowned expert CuChullaine O'Reilly offers startling and revelatory insight about equines that appears irrefutable… the horse as herbivore is a matter of conditioning, not necessarily preference."
Dr. Ruth Carter - Professor of International Studies at Georgia College and State University.
"O'Reilly controversially suggests that many modern-day horse lovers have a sanitised view of the horse and suggests past generations may well have had a better understanding of their nature."
Neil Clarkson - Publisher of Horse Talk international equestrian news service.
"Deadly Equines' investigation of the historical recurrence of omnivorous horses makes for compelling reading."
Dr. David R. Dorondo - Department of History, Western Carolina University and author of Riders of the Apocalypse: German Cavalry and Modern Warfare.
"A wonderfully crafted, thought-provoking resource, the book begs a renewed re-examination of the nature of the horse."
Diane Dowling - Director of the equestrian documentary Of Horse & Man.
"What a fantastic story! There is a message here which has been suppressed over the years."
Robin Hanbury-Tenison OBE - Long Rider and author of The Oxford Book of Exploration.
"Deadly Equines was riveting! It contains a vast collection of evidence that proves the existence of meat eating horses throughout history. A must read for all horse lovers."
Dr. Wendy Hofstee - Long Rider FRGS and BVSc MRCVS
"Deadly Equines brings to light a rarely discussed aspect of equine behavior in a fascinating and informative way."
Patrick Holscher - Society of the Military Horse.
"The book's absolutely fascinating. I must admit what it mostly did for me was make me think, surely the ultimate objective of any author. Brilliant."
Jonathan Hopkins – Author of Walls of Jericho – A Cavalry Tale.
"Deadly Equines is an extraordinary study and an intriguing account."
Jeremy James - Long Rider FRGS and author of The Byerley Turk.
"A stunning book and I mean stunning. It feels like I have been hit over the head."
Simon Mulholland – Equestrian inventor and social activist.
"This iconoclastic book shatters many cherished assumptions. It is an essential read for anyone with an interest in horses. I highly recommend it".
Douglas Preston - Long Rider FRGS and author of Cities of Gold.
"Deadly Equines depicts a fascinating and barely known aspect of polar exploration history."
The Honourable Alexandra Shackleton - President of the James Caird Society
"With relentless research, O'Reilly has put together a body of evidence on meat-eating horses that should have encyclopedia editors all over the world scrambling to re-edit their chapter on the horse."
Geoff Young - Publisher/Editor, Horse Connection magazine.
To Learn More
If you have additional personal or historical evidence, please contact CuChullaine O'Reilly at longriders@thelongridersguild.com
To learn more about the "Deadly Equines" research project visit http://www.lrgaf.org/deadly_equines.htm
The international news service, Horse Talk, has published an extensive article about this "hidden history" of the horse. http://www.horsetalk.co.nz/features/meateatinghorses-190.shtml
ExWeb, the world's leading exploration website, has published an article explaining how meat-eating horses were used to explore the Arctic Circle and Antarctica. http://www.explorersweb.com/air/news.php?id=20323
North America's most popular equine radio program, The Horse Show, recorded a special one hour live interview with the author. To learn more visit http://www.thehorseshow.com/
To participate in the international discussion regarding "Deadly Equines" visit https://www.facebook.com/pages/Deadly-Equines-The-Shocking-True-Story-of-Meat-Eating-Murderous-Horses/226312534070463?sk=photos
To purchase Deadly Equines, visit
http://www.barnesandnoble.com/w/deadly-equines-cuchullaine-oreilly/1104580837?ean=9781590480038&itm=1&usri=deadly+equines