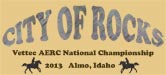 www.endurance.net/AERCNC2013
April 2 2013
American Trail Gear (
http://www.americantrailgear.com/
) is the latest to join as a sponsor for the 2013 Adequan® AERC National Championships to be held in Almo, Idaho on September 20-22. As a Bronze Sponsor,
American Trail Gear
will provide High Vet Score awards for the 50 and 100 mile rides.
Check the website regularly for updates and news, trail videos, and google earth fly-overs.
http://www.endurance.net/AERCNC2013
Entry fees and applications will be posted soon.
Rooms are filling fast at the Almo Creek Lodge - to reserve a room contact
http://www.almocreek.com/lodging/