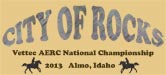 www.endurance.net/AERCNC2013
April 8 2013
Vicki Gaebe of
ParkCityPhotography.com
will be the official ride photographer for the 2013 Adequan® AERC National Championships to be held in Almo, Idaho on September 20-22.
Vicki describes her work: "Photography is a full-time passion. Whether it is photographing an equestrian event, enjoying the beauty of our National Parks, or on a hike and making 'eye contact' with a bull moose, I've always had a desire to capture it through the lens.  Over the years I have created an extensive portfolio of dramatic shots of animals, flowers, nature and scenes throughout Park City and all over the West, even as far away as Africa, Spain and Malaysia. My photos have been used by tourism bureaus, real estate publications, magazines, online, as well as the Utah Film Commission."
Vicki will have photos of riders available for purchase after the event.
Check the ride website regularly for updates and news, trail videos, and google earth fly-overs.
http://www.endurance.net/AERCNC2013