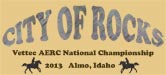 www.endurance.net/AERCNC2013
April 14 2013
A Hoof Clinic will be held by Christoph Schork of Global Endurance Training Center at the Adequan AERC National Endurance Championship at City of Rocks. 
Saturday September 21
9:00 - 12:00 AM
Christoph will demonstrate various hoof trims for barefoot riding, shoeing, booting, gluing. Various  hoof protection methods will be on display and explained, followed by a demonstration of an Easycare hoof boot gluing
.
Questions will be answered and participants can bring their own horses for a free hoof and trim evaluation.
The Clinic is sponsored by Global Endurance Center, EasyCare, Equiflex and Vettec.
Vettec will sponsor refreshments during the clinic, and all sponsors have provided give  away prizes for a drawing afterwards.
For more information see:
http://www.endurance.net/AERCNC2013