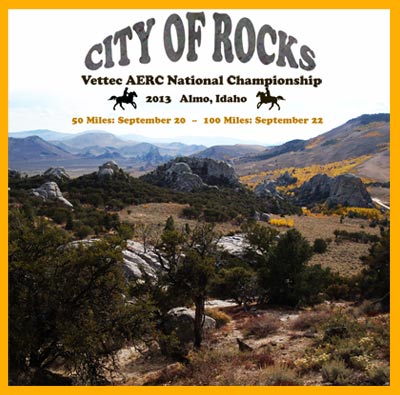 Vettec Inc is the new Title Sponsor of the 2013 AERC National Championship Event.
The Vettec AERC National Endurance Championship will be held during September in Almo, Idaho at the City of Rocks National Reserve. The National Park Service, State Park Service, US Forest Service, Bureau of Land Management, and private land owners are all welcoming this elite equestrian event. The championship course will follow some of the original pioneer emigrant trails, and the entire area is rich in history.
Event organizers Steph Teeter and Regina Rose are excited about sharing this beautiful location with riders from all over the country. The town of Almo is small but has many amenities, and due to the unique granite rock formations is an International destination for serious rock climbers. One can find just about everything there, including hot spring pools for soaking.
Our thanks again to Vettec Inc for supporting the AERC and it's premier National Endurance Championship Event.
Vettec Inc. - the leader in quality hoof care products, has been manufacturing and distributing the highest level of horse hoof care products worldwide for over 15 years. Vettec's extensive line of hoof related materials allow your hoof care professional to complete hoof repairs and glue on shoes with Adhere, urethane adhesive, as well as create instant horse shoes and foal extensions with Super Fast, equi-thane adhesive. Read more about Vettec at http://www.vettec.com
Learn more about participating in the National Championship at http://www.endurance.net/AERCNC2013
The 2013 NC Team.