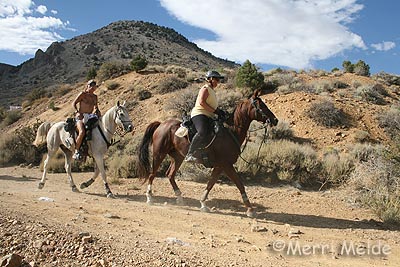 December 1 2014
Merri Melde-Endurance.net
Following in the hoof prints of his legendary sire Sierra Fadwah +/,
Gina Hall's 17-year-old gelding Fire Mt Destiny
reached 7000 AERC endurance miles this weekend in the Gold Rush Shuffle in California.
Destiny was in "Beast Mode!" Hall said. "Beast Mode is right!!" said daughter Carolyn Meier, who rode with her mom Hall. "At 17 with 7,000 miles he was jigging coming into the finish!"
Destiny also reached a major milestone this year in becoming only the 5th horse to get his 1000-mile buckle in the Virginia City 100. That was also Destiny's 20th 100-mile ride completion.
Fire Mt Destiny's sire Sierra Fadwah +/ was the first endurance stallion to reach the 7000-mile mark. He entered the AERC Hall of Fame in 1992, and he retired in 1994 at age 21 with a total of 7280 miles over 87 rides without a single pull.
For a story on Fire Mt Destiny and Gina Hall before this year's Virginia City 100, see
http://merritravels.endurance.net/2014/04/destination-virginia-city-100-gina-hall.html