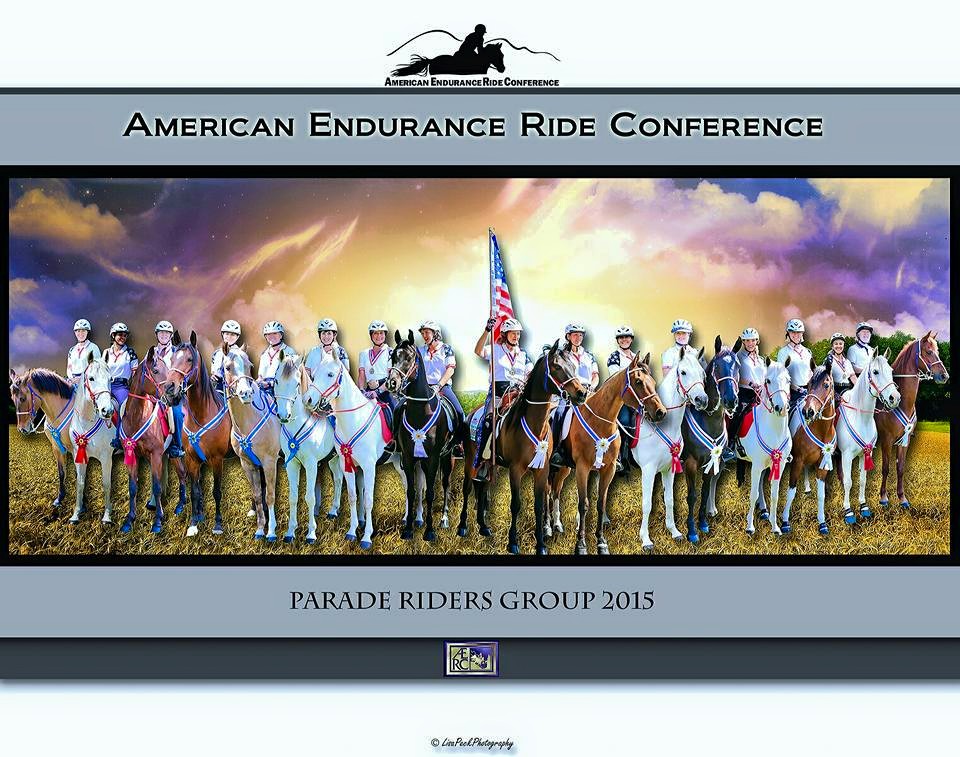 July 8 2016
by Merri Melde-Endurance.net
"It's official!" announced Lisa Schneider, Vice President of AERC. "The AERC Parade Group has been accepted into the 2016 Rose Parade! This group of 25 riders, headed up by AERC member Gayle Pena, will be marching in the Rose Parade on New Year's Day. They had to go through a rigorous qualification process and submit applications, photos, and list their parade credentials." The AERC Parade Group is one of approximately 20 elite equestrian units, chosen from applicants around the country, who will participate.
Crysta Turnage, from Spanish Springs, Nevada, will be one of the participants in the famed Pasadena, California parade, aboard her Arabian, Dream Makker. "Riders are required to be an AERC member, and have parade experience on their horse," Turnage explained. "The 25 riders in the group include our 'Living Legends' of Connie Creech, Dave Rabe, John Parke, Dave Nicholson, and Karen Chaton. Gayle Pena is the main impetus behind the group and the one coordinating everything."
Lisa Peck
is the group's official photographer, and she
created a video
fitting the theme "Find Your Park- Ride Your Adventure" as part of their Rose Parade application.
Riders were required to purchase all their own uniform gear, including custom tack from
The Distance Depot
and tights from
Crazy Legs Tights
. "All riders had to submit a full color photograph of themselves and their horse, along with a personal information sheet to the Group Marshal (Gayle Pena)," Turnage said. "These items were then coordinated into a custom group binder by Gayle and Lisa Peck, along with several videos including the group's Equestfest drill team performance and past parade appearances. This full package was submitted to the Rose Parade Committee for the equestrian team selection process.
"There are two 'satellite' groups for now," Crysta added. "One in southern California, headed up by Gayle, and one here in northern Nevada, which Karen Chaton coordinates. 
"We'd love to see this take off around the country by other regions."
According to
Tournamentofroses.com
, "Find Your Adventure" is the theme of the 127th Rose Parade presented by Honda. The theme grew out of a unique partnership between the Pasadena Tournament of Roses and the U.S. National Park Service. The 2016 Rose Parade will help shine light on the centennial celebration of our nation's national parks.
Both the Tournament of Roses and the National Park Service aim to preserve history, connect people through real-life experiences and engage the public in new adventures. As proponents of the American spirit, we encourage you to find beauty in the landscape that builds the backdrop of your lives. From coast-to-coast, we will add your stories of adventure to our collection while protecting our unique heritage and looking to the future.
Every person's adventure is different – you may find yours at the top of a mountain while mine is in my backyard; your adventure may be extraordinary while mine is familiar. Our hope for the New Year is that however you define it, you will find your adventure and enrich your life. 
"We wish them all the best and love the international exposure this will garner for AERC and endurance riding!" Lisa Schneider said.
Lisa Peck's video can be viewed at
http://lisapeckphotography.smugmug.com/VIDEOS/VIDEO-PROJECTS/i-JXZWvVS/A