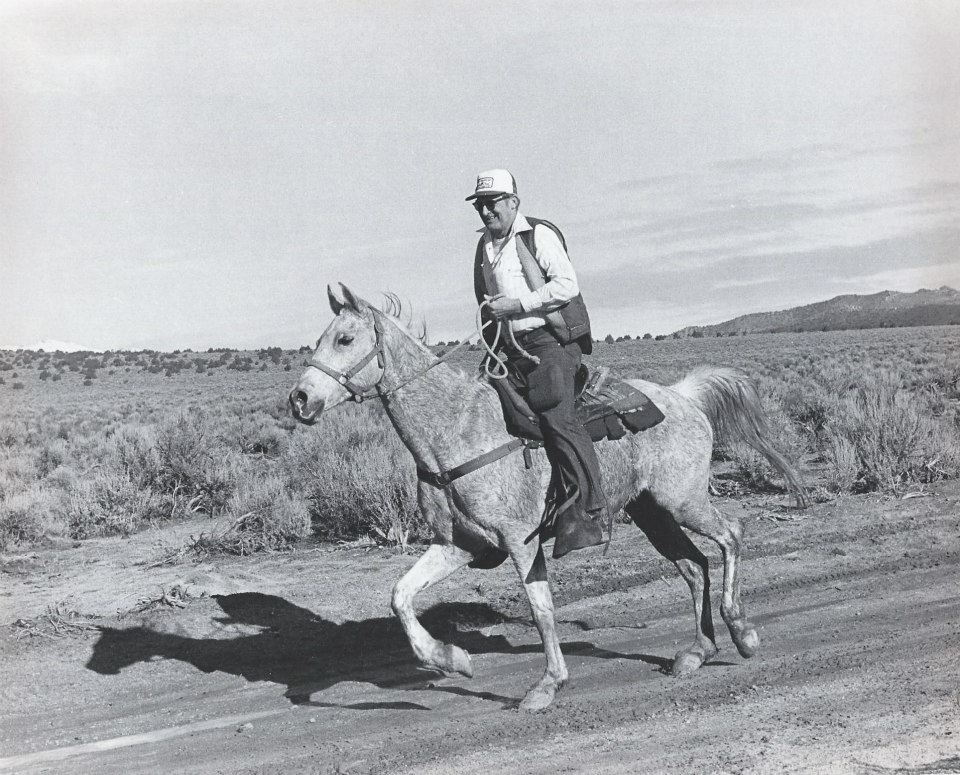 Charles Barieau photo
July 21 2-15
Pat Fitzgerald, a pioneer of the sport of endurance riding, passed away on July 14.
Friend Gordon Ansleigh shared a tribute:
Pat Fitzgerald was an astoundingly unique human being who blazed his way into the early history of endurance riding, most remarkably aboard his famous horse, Quist. Even in his time, he was a tough-as-nails representative of a bygone time. He lived life on his own terms, and could have fit in somewhere in the American West anytime after 1845.
I still chuckle about one of the pranks that Pat pulled on me. Way back in 1972, my girlfriend Terre and I were invited to join a ride from Cliff Lewis' stables in south Reno, up to Virginia City. Terre was going to ride my horse Rebel, and Pat Fitzgerald said he would bring an extra horse along for me. When I first got on Pat's horse, I had a terrible time getting it to go when and where I wanted it to go. He wasn't mean and didn't buck or bite, but he acted like he didn't know anything. Gradually, we worked it out on the way to Virginia City, and the trip back down to the Washoe Vally in the moonlight was fairly pleasant. Later, I found out that Pat was bragging and laughing about having loaned me a horse that had never before been ridden, and about how he got me to break and train a horse of his for free. Pat was telling people, "After Gordy got done with him, he fit right into my dude string."
Pat was part of my life from the time I started riding the trails in 1971. We were both such unusual people. Pat was one of the people around me and encouraging me during my seminal run of the Western States Trail in 1974, and we continued to enjoy each other's company through the 1970s and into the early 1980s. Pat was just tough and strong and so much a man in every way. We all knew he had a powerful will to do whatever he wanted to do in life, but he still astounded us when he entered the Western States 100-Mile Run back about 1980, and finished in a decent time. That had a lot of people going "Wow!" in the endurance community. Pat was no spring chicken at the time.
However, for my money, Pat Fitzgerald's most astounding performance was when a woman client at his stable in the Sierra complained to the SPCA about the way he was treating one of his horses. The woman showed up with another woman, an SPCA officer intent on citing Pat for animal cruelty. Pat asked if the complainant could identify the horse that he had supposedly mistreated. The lady pointed to the horse in question. Pat went to his office, came back with a Winchester 30-30, and shot the horse dead in the head. Then he said to the ladies, "Now, if you'd care to point out any other horses I've mistreated..." The ladies left terribly upset, but couldn't do anything about it because there was no animal cruelty involved. Pat said that was the last time he was seriously bothered by the SPCA. They came out at other times but were very polite and never threatened him with legal action again. Pat said he actually did the horse he shot a favor because it was a behavior-problem horse, and he had been planning to sell it for chicken feed. He said shooting it was a good investment in getting better treatment from the SPCA folks, and actually kinder to the misbehaving horse than going through the horror of a slaughterhouse experience. Pat viewed it as a win-win for all concerned.
Pat and Quist have been immortalized on the buckles of the Nevada All-State Trail Riders Virginia City Ride, and on Australia's Quilty Cup Ride. No man ever rode a horse more perfectly than Pat Fitzgerald.
I tip my glass to one of the most remarkable men I have ever known. Best wishes for a magnificent ongoing, Pat Fitzgerald!