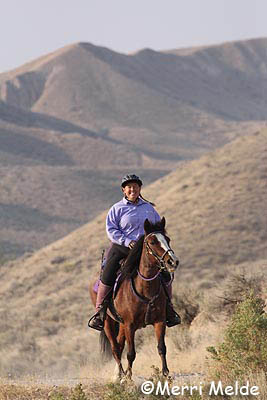 July 15 2015
by Merri Melde-Endurance.net
When Janet Tipton says, "I am so proud of this little mare!" she's got good reason.
After becoming AERC's highest-mileage Limited Distance horse in October 2013 at the Moab Canyons ride in Utah with 3985 miles, Lady Jasmine set a new mileage standard July 12 at New Mexico's Fort Stanton multi-day endurance ride. After completing Day 1's 35 miler, the 13.2-hand, 19-year-old mustang mare passed 5000 LD miles.
Tipton, from Erda, Utah, has owned "Ladybug" since 1999, when she adopted her as a 3-year-old from the Logan, Utah, wild horse adoption, although Tipton will say that Ladybug chose
her
, instead of the other way around. Besides endurance, Tipton and her multi-talented mare have also found the time to participate in Extreme Cowboy Challenges, dressage, drill teams, and parades, and - since it's inevitable when you live in the West - moving cows.
Ladybug's record currently stand at 193 completions in 195 starts (the pulls were a rider option, and an overtime), 25 Best Condition awards, and 5065 miles. But the dynamic duo isn't resting on their laurels. They are currently competing in the last 3 days of the 6-day Fort Stanton ride.
For more background on Tipton and Lady Jasmine, see:
http://merritravels.endurance.net/2013/11/mustang-extraordinaire-lady-jasmine.html
Top photo: Janet Tipton and Lady Jasmine, Owyhee Canyonlands 2012