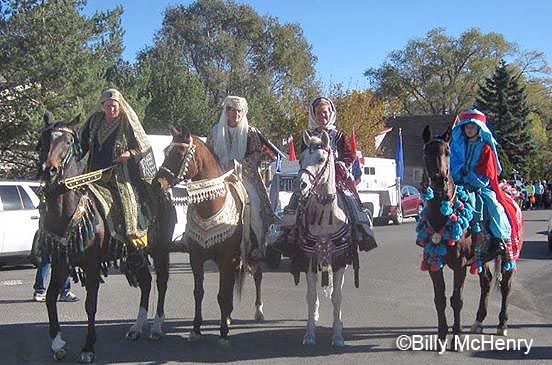 Pictured L to R: Connie Creech on LS Shardonney Bey, Phyllis Keller on Curious George, Karen Chaton on Granite Chief, Riley McHenry on Pro Bono D
November 2 2015
by Merri Melde-Endurance.net
16 AERC horses and riders placed first in the "Parading Arabians" group in the 2015 Nevada Day Parade on October 31 in Carson City, Nevada. Four of the riders (Creech, Keller, Chaton, and Crysta Turnage) and five of the horses who participated are part of the AERC Rose Parade Riders headed to the Rosebowl Parade on January 1st.
Now in its 77th year, the Nevada Day Parade celebrates Nevada Day, a grand celebration commemorating admission to statehood on October 31, 1864.
"It was a big parade, over 200 entries, and an estimated 35,000 to 40,000 people," said participant Karen Chaton, a member of the northern group of AERC Rose Parade riders. "There were several other equestrian groups - military horses, dancing horses, vaqueros, Pony Express, and politicians riding."
10-year-old Junior AERC rider Riley McHenry, who just recently joined AERC and completed her first 50 mile ride, participated in her first Nevada Day Parade. She was aboard Pro Bono D, owned by Chaton. Before the Parade was over, McHenry said to Chaton, "I'd rather ride a 50 than do a parade!"
The "Parading Arabians" are all dressed in Native Arabian Costumes. Veterinarian Susan McCartney provided some of the horses, and several of the costumes for the parade riders, and her husband Dave Cookware rode in the lead on one of their 33-year-old horses.