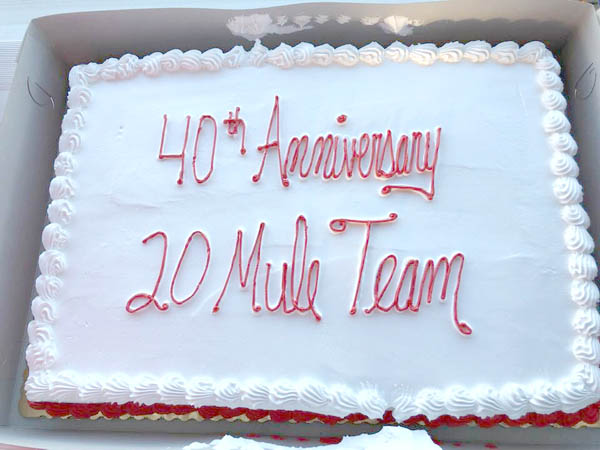 February 25 2019
The 40th anniversary of the 20 Mule Team ride took place in near-perfect weather in Ridgecrest, California, on February 23, 2019 with distances of 35, 65, and 100 miles. The trails were the same that will be covered in the AERC National Championship rides on October 31-November 3.
Chris Martin's Monk, ridden by Ann Hall, was third cross the finish line but ended up the winner, in a ride time of 13:09, when the first 2 finishers were pulled. Second place went to Melissa Montgomery aboard West Winds Dragon in 13:52. Justin Loewen and Par Devant finished third in 15:35. Fifth place Susie Kramer and A Ali Aseel took Best Condition. It was the gelding's first 100 mile ride. 36 started the 100, with 22 finishing.
Dominique Freeman and Rising Heat won the 65 miler - and got Best Condition - in a ride time of 7:15. Sheri Weast and AA Arikhem finished second in 7:17, and Allan Horn and Shez Mostly Zipped finished third in 7:45. 24 started the 65, with 23 finishing.
Lauren Horn and her mustang Midnight Special won the 35-mile ride in a ride time of 4:25, and got Best Condition. Carolyn Hock and SX Whisper finished second, and Alissa Stephan and Limited Edition finished third. 19 riders started the 35-mile ride, with 18 finishing.
Photos from the ride by official ride photographers William Gore and Rene Baylor can be seen at
https://williamgorephotography.smugmug.com/2019-Endurance-Rides/20-Mule-Team-2019
**Unofficial results until posted on AERC website**