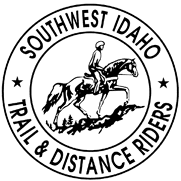 February 11 2019
by Merri Melde-Endurance.net
Years ago on the National political stage, one might recall a couple of politicians making snarky fun of a Presidential nominee's local grassroots community organizing.
With roughly 90 members from Idaho, Oregon, and Wyoming, SWITnDR - Southwest Idaho Trail and Distance Riders - is a grassroots endurance and trail riding club. Incorporated 40 years ago in 1979, the organization sponsors competitive 25, 50, 75 and 100-mile endurance rides and trail rides in Idaho. SWITnDR is one of numerous small, local endurance riding community organizations around the United States that work underneath the national AERC (American Endurance Ride Conference) organization, which governs endurance riding on the National stage.
SWITnDR held its annual banquet and awards over the weekend in Boise, Idaho. The gathering recognizes member riders and horses who have achieved special milestones over the previous year. It provides members an opportunity to actually hang out and mingle, in normal attire, which is not always possible at the endurance rides when one dedicates most of their time to riding and horse care while sporting dusty riding clothes and helmet hair. SWITnDR is like a big extended family, and the awards banquet its annual family reunion.
During the awards, in addition to many fine riders and horses being acknowledged, Naomi Preston (new AERC Board member) recognized Oreana, Idaho, resident and long-time SWITnDR member Steph Teeter for her 13 years of dedicated service on the national AERC Board, as well as her decades of acting as a SWITnDR ride manager.
SWITnDR President Debbie Grose presented the President's Award to the current Vice President, Ann Kuck, for her tireless and unstinting volunteer work and support for the club and its members throughout the years.
While AERC governs endurance riding on the National stage, it's these smaller, local endurance organizations that help bring diverse groups of "ordinary" people with eclectic horses face to face, to train, mentor, compete, and have fun together, on a first name basis.
Want to only ride 12 miles at a SWITnDR event? Great. Come do the Introductory trail ride on a Quarter horse, and we'll put you to work afterwards, and feed you a meal, and make room for your chair around the evening campfire's music jam. Are you one of those die-hard 100-mile riders on a seasoned Arab? We'll hand you a hot dog at lunch on the trail, and keep your breakfast warm for you the next morning after the finish line. Want to just come and volunteer with our group at rides? We love having you! SWITnDR welcomes the short and long distance riders, any age, and any horse breed, any size - and everybody two- and four-legged in between.
The SWITnDR community organization is run entirely by hard-working volunteers. You'd be silly to make fun of our local riders and club officers who are dedicated to the endurance community, because you never know what they will achieve. Numerous local SWITnDR members have served, and are serving, on the national AERC Board. We smaller grassroots members are the foundation of the larger sport of endurance riding. Oh, and that previously mentioned ridiculed community organizer? He went on to become President of the United States.
Join and ride with and volunteer with your local endurance ride group! A list is here:
https://www.aerc.org/static/Local_Clubs.aspx