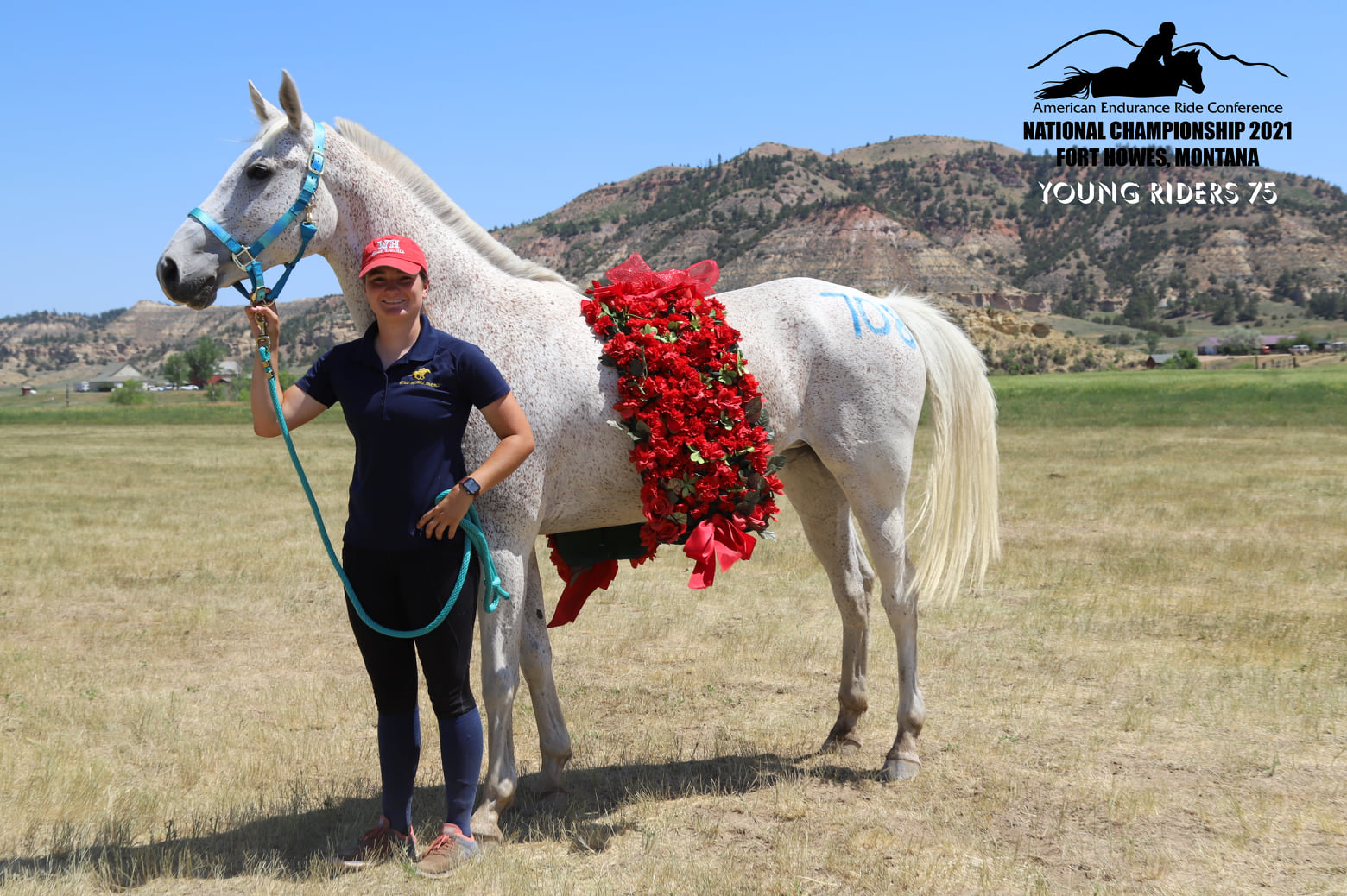 by Merri Melde-Endurance.net
June 19 2021
The finale of the AERC National Championships at Fort Howes near Ashland, Montana, showcased the AERC Young Riders in a 75-mile National Championship on June 14.
Of the 13 starters, 19-year-old Alex Shampoe, of Colorado Springs, and Fine Cut Gold (aka "Cut") crossed the finish line first in 9 hours, an hour ahead of second place Kimberly Loutzenheiser and Shahqeem. Fine Cut Gold also got Best Condition and High Vet Score. The 10-year-old is a purebred Arabian mare with French lines who probably raced on the track, by Thoroughbred X Cashmeire, by Calin de Louve.
The win wouldn't be a surprise to anybody who's spent any time around Alex. Besides her excellent horsemanship and her self-effacing manner, most impressive is her AERC endurance record. In her 7 seasons and close to 3000 miles of AERC endurance, while she's only owned 1 endurance horse ("He's been retired, because he likes to hurt himself"), she's ridden 52 different endurance horses for many different owners. One would have to be a good rider to be able to successfully handle so many different horses.  
Fine Cut Gold, owned by Valerie Kanavy, and Alex have been getting acquainted the last 8 months at Kanavy's farms in Florida and Virginia, and Alex now works for Valerie. "I do a lot of FEI," Alex said, "and last winter I asked Val if I could come ride some of her horses, because she's got really nice horses!
"So I rode for her for a couple months, then in January we decided that I would try for the USA Young Rider World Championships in the Netherlands in September.
"We were thinking about our options as far as our horses go, and Cut was one of those options. So I rode her in January on a 75 [at Broxton Bridge, 2nd place], and then in February on a 75 [at FITS, 1st place], and then in May on a 75 [at Let's Have Fun, 1st place], then this Championship 75."
Due to the extreme heat wave that the 100-mile riders had to deal with on June 13 and that was forecast to continue, the start for the Young Rider Championship, scheduled for the morning of June 15, was changed on short notice, for the welfare of the horses and riders. It became a night ride, with a start time of 6:30 PM on June 14. It was still around a hundred degrees for the start, but as the sun set, the temperatures became comfortable.  
"I planned to ride a couple of loops with people," Alex said, "and then see how my mare felt and see if she wanted to go faster or slower. But my strategy went out the window the first loop.
"First place kind of took off at the start, and I was riding with a few people on and off, all the way to the out vet check at 11 miles. Then from there, I rode with a guy for the last 15 miles back to camp." Cut pulsed down quickly at the first hold, moving Alex up into first place. "After that, I rode alone for the rest of the race."
They started the second (white) 14-mile loop in the dark, with a bit of a moon, and a little sunset light on the horizon. Loop 3 was a repeat of the white loop, and by then it was completely dark, which Alex rode sans light. "Cut goes better without a headlamp, so I rode without one, but I trust that mare. She did the whole thing with little to no help from me!" she laughed.
"We trotted out of camp, and Cut decided, OK, we're cantering now, so I was like OK, whatever you want. She cantered everywhere she possibly could, and it was a little nerve-racking at first, but she wanted to do it. She knows what she's doing, that's for sure."
Alex describes Cut as "very forward. She's got good brakes, and she's got a good mind. But you have to put her together and help her think a little bit clearer, and then she's a dream to ride."
There's a little more to it than that, said Kelsey Russell, who works for Valerie. "Cut is not a push button and face her down the trail kind of horse. She takes support and reminding of how she should [be] carrying herself efficiently. Alex has played a huge role in making this talented mare into a 'dragon' who can now travel down the trail carrying herself properly.
"I don't normally get emotional after many races, but this race pulled at my heart joy strings. Alex did such a great job keeping Cut in line and taking it one loop at a time. Alex and Fine Cut have been working hard on improving each other and their relationship since January this year as her other mounts changed the plans. Having watched her dedication and hours of work being put in, seeing this pair grow and improve with each lesson, and race, brings such satisfaction and joy."
"Alex has become a very talented competitor and rider," Valerie Kanavy said. "The cool thing about her accomplishment with Cut, is Cut may be my horse, but Alex has done the work that has made her a champion. It wasn't that she just came and got on her horse. Cut had some special needs and Alex, through arena work and dedication, has made her into a top competitor."
Alex really didn't take any credit for her win, attributing all of it to Fine Cut Gold, and to Valerie and Kelsey and her mom Aileen Ellis, for being the "best crew," and for helping her throughout the ride. "I'd ask them, 'OK, how fast should I go, should I stay with other riders, should I just go.' And they gave me a lot of advice on how to rate Cut so she could go all night all by herself, and how to bring her in so she could pulse down as fast as possible, and where to walk, where to trot, and where to canter."
Every moment with Valerie is a teaching moment, Alex said. "I learn so much from her every day. Val has so many different things you can do with the horses, like swimming, and a canter field and a trot hill and a gallop hill, and long rides. Her place [in Virginia] is amazing. It's really cool learning how to train on all those different terrains that she has in once place."
Alex also credits Ride Manager Jan Stevens and her husband Bill for going above and beyond in this huge multi-Championship event.
"Bill and Jan were amazing all night. And Bill, he helped mark the trail and put out the glowsticks. Every single loop I'd come in, he'd ask, 'Is it OK? Do I need to change anything? How can I fix it?'
"And Jan, on the two white loops in the dark, she was at the halfway point. We'd go up to her, and she'd take down our number, and she'd make us talk to her for a little bit to make sure we were OK and we were still chugging along. I can say that on the second white loop, I was really looking forward to seeing her!
"They put on an amazing ride, and the vets were all amazing. They took care of our horses all day."
Alex's mom sees the bond that exists between Alex, Valerie, and Kelsey. "[They] have an unspoken connection with each other. They all know their role and do it very well…
"There was a calmness about Alex, that I have never seen before. My daughter has grown up and found wonderful mentors, friends and family in Kelsey and Valerie. I am so grateful to both of them."
*top photo: Alex and Fine Cut Gold. Photographer Becky Pearman donated a 4x6 print to all Championship entrants