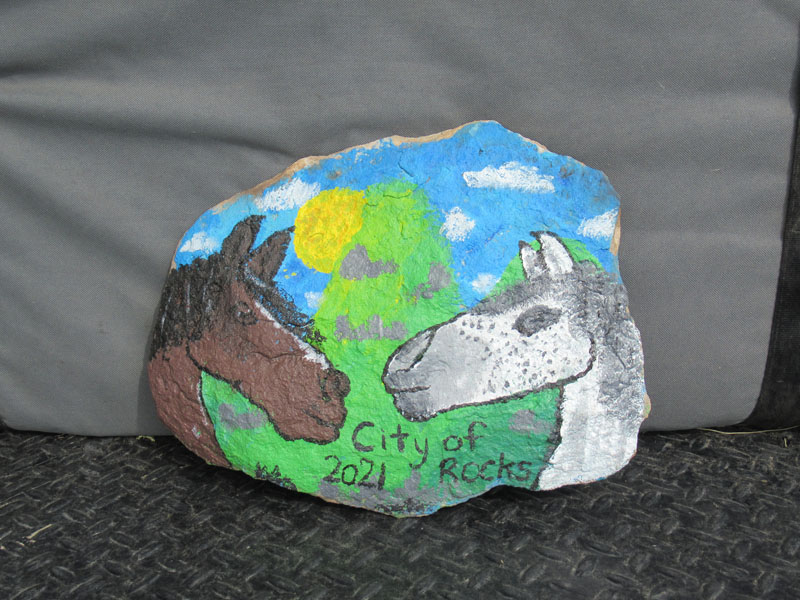 by Merri Melde-Endurance.net
June 11 2021
If she hasn't already caught your eye at endurance rides as the tall, confident, 13-year-old pig-tailed pilot of a Hackney pony with an outsized personality, then it's her burgeoning - as of last weekend - rock horse art business that will really stop you in your tracks.
"I started painting these rocks for fun," Kyla said, "because my sister wanted to paint. Then I was thinking, why don't I just paint horses because we're at a Ridecamp." That was at City of Rocks Pioneer endurance ride in south-central Idaho June 4-6.
Dave Rabe saw the first fun rock painting she created of a gray horse, and since he had two rather famous gray horses, Cheys Cocamoe Joe and White Cloud at his trailer across the field, he bought it for $20.
"And then I thought, why don't I paint people's horses because then people would want them more." Next she painted a rock for Naomi Preston and Lee Pearce of their horses, (Hall of Fame horse) Fire Mt Malabar and JAC Winterhawk. (top picture)
When I saw that rock, I made a beeline for Kyla for my own rock painting of Hillbillie Willie. It was good timing, because after that, the word got out.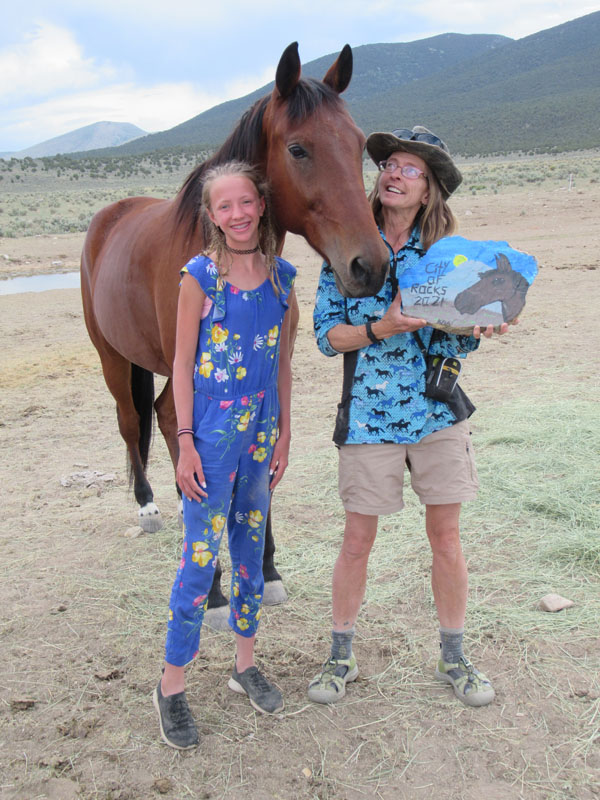 Kyla takes a profile picture of her subject, finds a big flat rock ("sometimes that's the hardest part!" - but luckily City of Rocks had just the right kind of rocks scattered around our Ridecamp field), then she sequesters herself with her acrylic paints for around an hour to produce a unique, one-of-a-kind piece of art specific to the ride and horse(s) that's guaranteed to delight its new owner.
She paints for fun, and for the pleasure she gives her clients, but it also serves another purpose.
"It's so I can raise money so that I can pay for my horses' shoes. Because if I don't pay for them, I don't get to ride them."
Kyla has two horses, Prancy (Velvet Prancer), a saddlebred bay, and the aforementioned Flash (Piece of Perfection), the now-12-year-old Hackney pony. Kyla's goal this year is riding the Tevis Cup with Flash.
"Flash is crazy. He has a huge personality. And he LOVES to run fast and he loves to win and he's funny. And we share a really big connection with each other," Kyla said.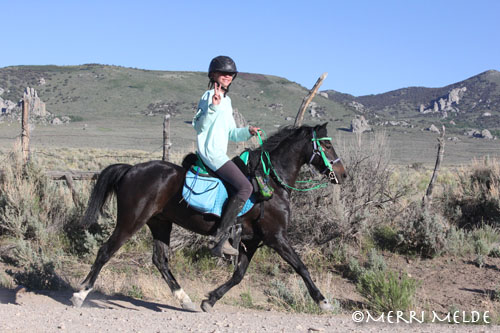 Sheila Wetter had bought Flash several years ago and recruited Kyla to help break him. "He wasn't even saddle broke. So we just worked from that, and when I was finally able to ride him, I couldn't even talk while riding him or he'd spook. So we had to work all through that. 
"And we were moving to Utah from Washington state, and I thought, I can't lose him, because I love him so much. Because training together, we just grew a huge connection."
She asked her mom and dad if she could buy Flash; they approved and she raised the money to buy him in 2018. Kyla started endurance riding when she was 9, and has ridden 915 AERC, EDRA, and WDRA miles. She and Flash finished the Scottsdale ReMarkable 100-miler last December, and they are focused on the July 24th Tevis Cup.
"I know that my pony can do it," Kyla said. "And it's a huge ride and it looks really fun to do, and this year is free for juniors."
Kyla loves custom painting her rocks with people's horses, and it kept her busy during City of Rocks, and is likely to keep her busier at future rides. But get your order in early and be patient, because that won't interfere with what she's really there to do. "I have to ride!" she said. 
If you want your own custom rock, you can get in touch with her mom, Natalie Law. 
Or, Natalie says, "I guess the easiest way is to find the little black pony. And you'll find Kyla."