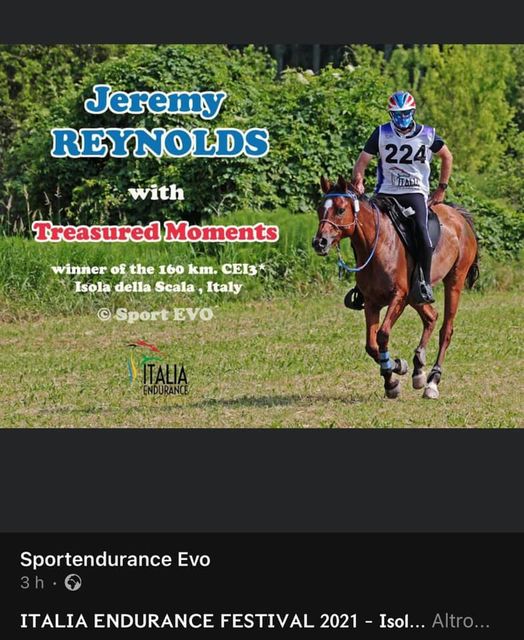 by Merri Melde-Endurance.net
June 22 2021
The World Endurance Championship in Pisa, Italy, on May 22, was a total bust: the USA Team withdrew before the ride when one of the Team horses came down with a fever. 
Heather and Jeremy Reynolds were crushed, because they knew their Arabian mare Treasured Moments (DA Adios X Hidden Treasure, by RD Five Star) had a big performance in her. But bad luck turned into good luck, as Jeremy and Treasure (along with his teammates Holly Corcoran and Poete, and Cheryl Van Deusen and Hoover the Mover) were invited to participate in the May 29th 160-km Isola della Scala, the Italian Championship, and pre-ride for the 2022 World Endurance Championship.
And though they couldn't technically be crowned the Italian Champions, since they are from the USA, Jeremy and Treasure, an 11-year-old mare bred by CreRun Farm, stormed home the winners. Jeremy was understandably quite emotional after the win, particularly after missing the previous weekend's World Championship. 
"This horse is something special. It's just that her easy way of going is just so fast and so effortless," Jeremy says. "She's in a rope halter from the start, she doesn't stress about anything. She's just a dream to be around. She's just so special to me."
Not ones to rest on their laurels, 3 days after arriving home in Florida, unpacking, repacking, and Jeremy shoeing their 24 horses, the Reynolds were in their horse van with a load of 6 horses, 3 dogs and a cat ("the traveling circus" Heather calls it) headed for the AERC National Championships at Fort Howes in Montana.
Jeremy and Heather both rode in the 50-mile race on June 11; and while Jeremy can't technically be crowned the USA 50-mile Champion, since he rode in the open division, he and 9-year-old Arabian Supersonic Zell finished first, in a smoking ride time of 4:05. The Reynolds train Zell for Pegasus Racing and Richard Ferrari. 
Heather was crowned the AERC 50-mile Champion; finishing second just 11 minutes behind Jeremy and Zell, she rode Misfit Toi (A Noble Cause X Ames JLo, by Matoi) to the Championship division win. Also owned by Richard Ferrari, this 13-year-old Arabian gelding is "a very intense horse, he likes to go," Heather says. "He's not spooky at all; he's the bravest horse in our barn. You could ride him through a burning building and he'd probably take off with you through it.

"He's a funny horse! An interesting guy. And he's very sweet, not a mean bone in his body. But you ask him, he is a champion in his own mind. He'll win whatever race there is if you ask him."
The Reynolds have ridden at Fort Howes many times, but say the Ride Managers, Jan and Bill Stevens, outdid themselves this time. 
"They did a spectacular job with all the different events," Heather says.
Jeremy says, "And all the water they put out. It was just incredible."
"And," Heather adds, "they are not close to anything. So the fact that they can get anything done out there is amazing. And then for the numbers of people that were there, it was truly commendable. 
"And the steak dinner was just as good as ever!"
See more from the AERC National Championships at:
http://www.endurance.net/international/USA/2021AERCNC/