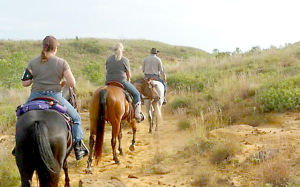 NPTelegraph.com - Full Article
January 10, 2014
By Heather Johnson hjohnson@nptelegraph.com
A new craze sweeping the nation is gaining ground in North Platte.
Kerri Ross is among those jumping boots first into virtual endurance horse racing.
"I started last year," Ross said. "Horseback riding had always been a hobby of mine, but now it's my life."
Tammy Vasa, of Weston, started the competition. The rules are simple. People track how far they ride using a GPS device.
They then post those miles online, where the data is gathered and logged onto a spreadsheet. The person who rides the most miles by the end of the year wins bragging rights...
http://www.nptelegraph.com/news/race-to-the-finish/article_02132774-2319-5377-9a3f-3e257ec4113d.html