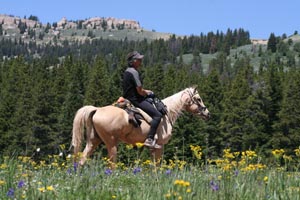 Kevin and DE Golden Ali at the 2011 Big Horn 100
September 28 2019
Story and photos by Merri Melde-Endurance.net
Last week at the scenic Virgin Outlaw XP ride near Penguitch, Utah, a couple of major equine endurance milestones were celebrated.
On September 23, Kevin Waters crossed the finish line (accompanied for the photo op by his terriers Jay and Fritz) with his DE Golden Ali, a 3/4 Arabian gelding by Blacklord Baskhot X Salome RFN, by Rio Fire Nice. Ali is "19," Kevin said. "Or 20." The pair started Ali's endurance career in 2008, and after 12 seasons, Ali's record stands at 164 completions in 168 starts, with 14 out of 15 100-mile finishes.
Kevin said, "Glad it was at an XP ride with Hall of Fame riders , Ride Managers and horses all around!"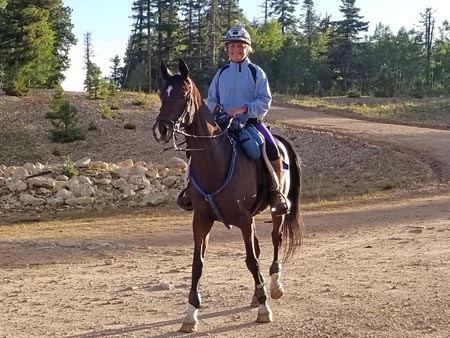 Naomi and Fire Mt Malabar at 2018 Old Selam
The next day, Naomi Preston and 20-year-old Fire Mt Malabar (Sierra Fadwah X Malabar Dawn, by Malabar Amir) crossed the finish line to hit Malabar's 9000 mile mark. Malabar started his endurance career in 2006; he's competed 143 out of 150 starts, and 7 out of 10 100 milers.
Here's what Naomi said on September 25:
"As a horseowner, if you're really lucky, you get to have a once-in-a-lifetime horse who exceeds all your goals! I'm feeling especially blessed, because I've gotten to experience that twice now. First, with Mustang Lady, and now, thanks to the generosity of my hubby Lee Pearce, I've had the privilege of riding Fire Mt Malabar, his once-in-a-lifetime horse. Lee did over 5,000 miles with Malabar, achieving countless awards, including National Best Condition.
Yesterday, at age 20, Malabar hit 8,000 competition miles with me at the beautiful Virgin Outlaw ride. Thank you Lee and Malabar!"