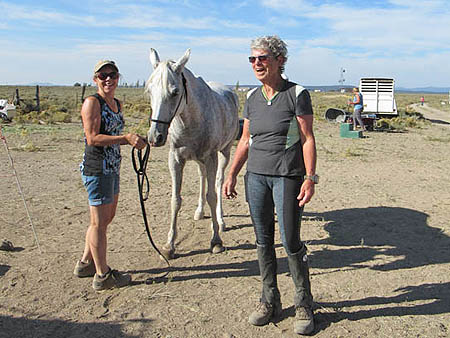 September 14 2019
On Saturday September 14 at the Oregon 100 in Brothers, Oregon, Lois Fox and Iced Mocha crossed the finish line of the 50 mile ride with a small crowd of cheering fans. Mocha had just completed 5000 AERC endurance miles. It is the second horse Lois has achieved this milestone with.
Here is Lois' write-up of the day:
I want to thank all of the people who took the time last week to send wonderful posts or in person comments at Oregon 100 regarding Mocha's recent 5000 mile achievement. The response was overwhelming and appreciated. If Mocha could read, I know he would smile. I thought Tani Bates and I were the only ones who knew about the milestone. Tani stayed at the ride, even though she had decided not to start her horse and could have gone home early. She volunteered at the ride and crewed for me when possible and waited anxiously for Mocha's completion. She brought champaign for all to enjoy. Les Rouska needs some instruction on popping the corks. lol
Achieving 5000 miles with an endurance horse is truly amazing. Getting to 3000 miles is relatively easy with a sound, adequately conditioned equine and a determined rider. The problems increase with the mileage totals. Serious injuries usually curtail the quest for high mileage. However, a myriad of minor stuff seems never ending.
Mocha's challenges have been primarily saddle fit. I have been through several saddles, including 3 that were "custom" fit. The saddle fitters I used simply didn't understand endurance. I finally relented and went to Marlene Moss and Ghost treeless saddles. Marlene and Helga Grimsrud Pratt didn't give up until Mocha had a successful 50 mile completion 3 months after we started trying to fit him. I am forever grateful to these two women for salvaging Mocha's uncertain future.
I'm optimistic that Mocha has lots of miles left to go. Again, thank you all for your encouraging words. The response was overwhelming to me and totally unexpected. I appreciated all of it.