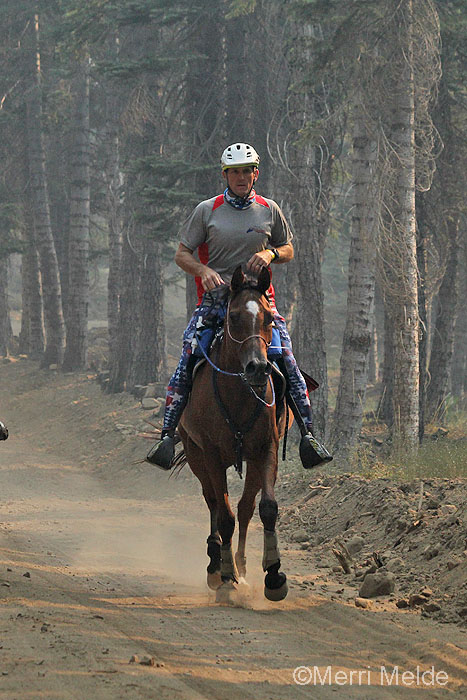 by Merri Melde-Endurance.net
July 26 2021
Jeremy Reynolds and Treasured Moments finished first in the August 24th Tevis Cup. Riding at the front of the pack of 133 riders, the two enjoyed a comfortable margin of victory at the end, finishing the 100 miles in 14 hours 48 minutes.
Second place was a nail-biter, as 3 riders popped up trail out of the dark 1 hour and 10 minutes later, with Christoph Schork and VA Blizzard of Oz nipping Vicki Holzer and SW Majestica, with Susan Kramer and A Ali Aseel another length back in fourth.
Suzanne Ford Huff and S D Expressa had been running up front with Jeremy leaving the Foresthill vet check, but they dropped back to finish fifth.
Finishing sixth and seventh were the mother-daughter duo of Jeanette and Reyna Mero. Jeanette rode Ozark Kaolena SWA (Lena) and Reyna rode Chndakas Eklipse SWA, with Lena receiving the Haggin Cup the next morning.
Jeremy is now a 4-time Tevis Cup winner (he also won the Haggin Cup 3 times previously).
Treasured Moments is an 11-year-old mare by DA Adios X Hidden Treasure, by RD Five Star, who received her 4th Tevis Buckle (her first buckle was a 3rd place and Haggin cup with Jeremy). Eight weeks previously she'd been in Italy where she and Jeremy won the 100-mile Italian Championship.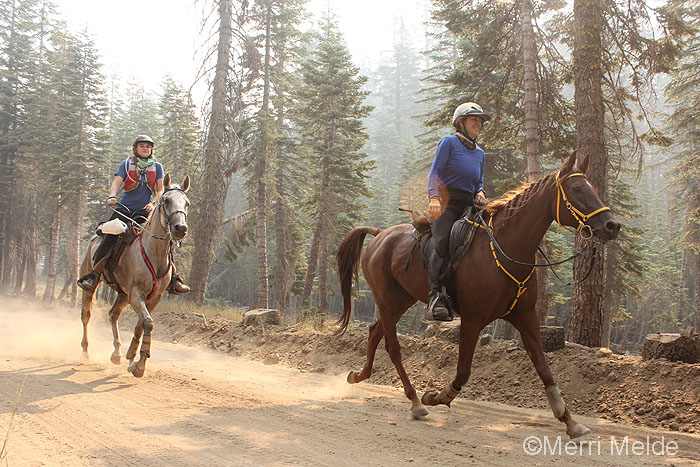 Jeanette Mero received her 4th Tevis buckle and Lena received her second. The mare has completed all but 2 of her 34 starts and she's earned 7 Best Condition awards, including the 2019 National Championship 100 in California.
This year's heat wasn't particularly awful, though some riders did have to contend with the usual Tevis Gremlins out on trail (and before the ride). The riders and horses did have to contend with smoke from the start to several miles past the first hour vet check at Robinson Flat (36) miles but a top rider didn't consider that a factor.
63 riders finished out of 133 starters for a completion rate of 47%, which is more or less average for the Tevis Cup.
More Tevis Cup Dispatches to come at:
http://www.endurance.net/international/USA/2021TevisCup/