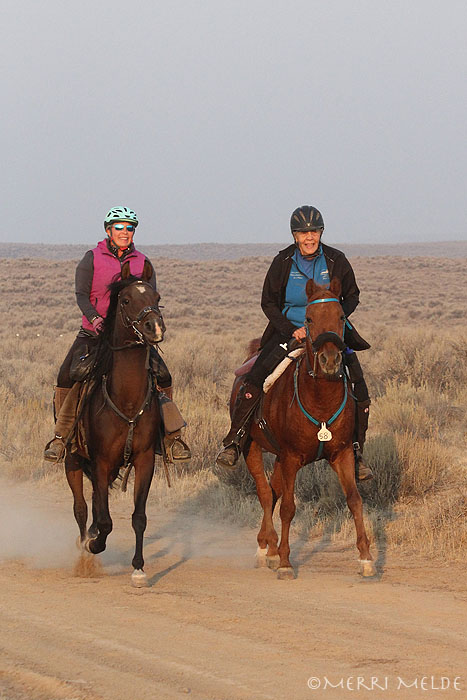 by Karen Steenhof
One definition of endurance is "the ability to continue doing something for a long time." At age 82, Carolyn Roberts (AERC #914) has not missed a year of riding AERC rides in 43 years. Carolyn's first AERC ride was a 25-miler in 1978 at the Boise Basin Gold Rush near Idaho City, Idaho, followed by a 50-mile ride the next month.
Carolyn did the early point-to-point Pony Express rides, and she and her husband Neil camped in Nevada in some of the years that she was competing seriously. She was the National Heavyweight Champion in 1983, riding Wrianas Shiloh 1,420 miles that year. She also placed third in the nation and first in the Northwest in 1983. She and Shiloh also ranked nationally in 1985. She and her late husband, Neil, managed the R & R ride in Eagle, Idaho, from 1978 to 1988.
Despite some serious injuries and illnesses as well as several surgeries over the years, Carolyn has completed more than 10,000 miles of AERC rides (7,365 endurance and 2,795 LD). She has been awarded Best Condition at more than 36 rides.
Carolyn and her 19-year-old Arab gelding, Manhattanincident (Mac) completed 1300 LD miles, including 55 miles in 2021. Tragically, Mac had to be euthanized on April 26 due to colic caused by a rectal tear. Our hearts go out to Carolyn for losing her best buddy.
*top photo Carolyn Roberts and Manhattanincident (right) with frequent riding companion Maria Kilgo at the 2020 Autumn Sun Pioneer ride. Photo ©Merri Melde