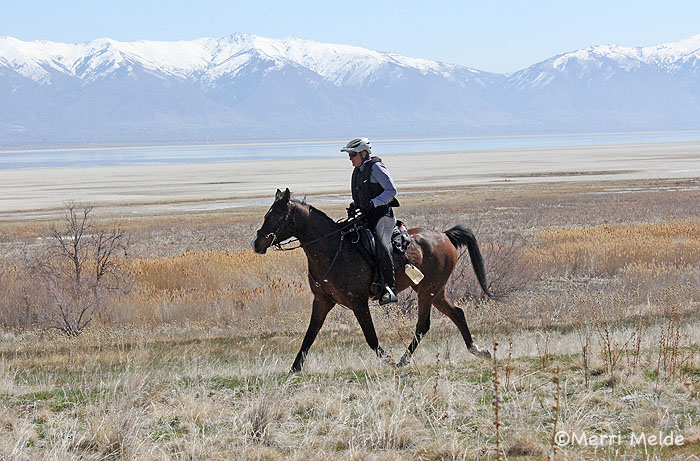 July 18 2021
by Merri Melde-Endurance.net
On July 10 (actually, the wee hours of July 11), the familiar face of Suzanne Hayes landed in this year's Big Horn 100 winner's circle again. But instead of riding one of her older, experienced campaigners (both Sanstormm, last year's winner, and Greenbriar Al Jabal, 2012 winner, are headed to Tevis this year), she rode one of her young horses to the win.
Considered one of the toughest 100-mile endurance rides in the country, Suzie thinks the Big Horn, in the mountains above Shell, Wyoming, is just perfect for a horse's first 100. She rode her 8-year-old Arabian gelding, Al-Marah Triple Speed ("Ace") in his first 100-mile ride. The win was just cake icing.
"It's perfect because you have to go slow," Suzie explains. "To me it's a very metabolically kind course for a horse. Because of the footing - there's a lot of rocks - you just can't go very fast. And there's tons and tons of grass for the horses to eat, so to me it's a really good course for a first time. You can go to the flat 100-mile courses and you can you gallop the whole way, but to me those are way harder on a horse."
Suzie didn't set out to win; she just did her usual what's-best-for-the-horse ride. "It was fun because the 50 started at the same time, so Lynn and I got to ride together on our two Al-Marah horses." Lynn Lee is Suzie's Arlee, Montana, neighbor and long-time friend who often crews for Suzie, when she's not riding her own horses. The two geldings are half brothers, by the sire Al Marah Swift.
"We just trundled along. We didn't set any speed records by any means, but everybody else I guess was just going slower. Most people were pretty close."
After the 50s ended their ride (Lynn and Al-Marah Fastnfine won and got Best Condition on the 50) and the hundreds continued, for a while Suzie and Ace rode with Jerry from Illinois for another 20 miles. Then she rode the rest of the way, in the dark, by herself. Their winning time was around 18:40, and Ace got Best Condition.
"That's pretty slow. It's probably the slowest winning time ever on that course," Suzie says. "This is just a course where you've got to be smart and ride it smart, and just take it easy over the bad footing. You just can't go real fast on it. I don't think they'll ever win that course in 12 or 14 hours anymore like they used to. You just can't do it. But it's just so pretty, it doesn't matter."
All in all, it was a smooth ride. "It was really fun, the weather was good, the temperatures were moderate, there were no thunderstorms, and that's my story!" What she doesn't mention is that she also wasn't riding - and winning - six weeks after breaking 10 ribs, cracking two vertebrae, and lacerating her liver, like she did last year riding Sanstormm.
Last year's Big Horn 100 had an unusually high number of starters (79), because it was the 50th anniversary, and because COVID interfered with the entire first half of the ride season. This year, with ample rides everywhere, including  the National Championships in Montana four weeks earlier, and Tevis two weeks later, only 9 riders started the 100 (8 finished), and 5 started the 50 (4 finished).
"I just feel so bad because that trail is a tough trail to mark and to do all that work on. A lot of those little rides it's not a big deal, but Big Horn, it is because it's so much work. I hope they keep having it, and I hope people will come."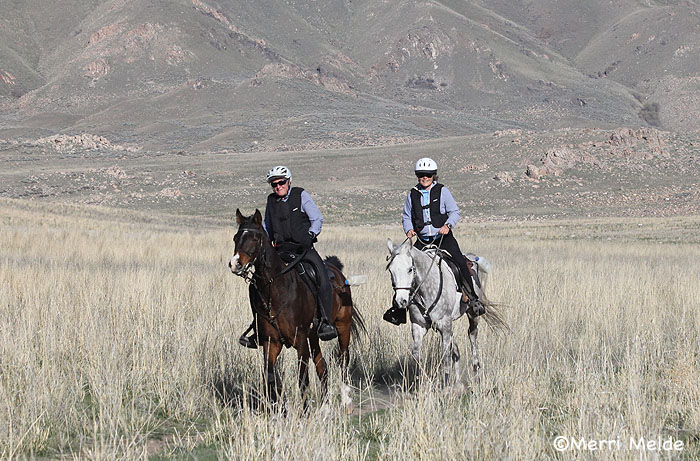 Top photo, Suzie and Al-Marah Triple Speed at Antelope Island in Utah; bottom photo Suzie and Al-Marah Triple Speed, and Lynn Lee and Al-Marah Fastnfire at Antelope Island