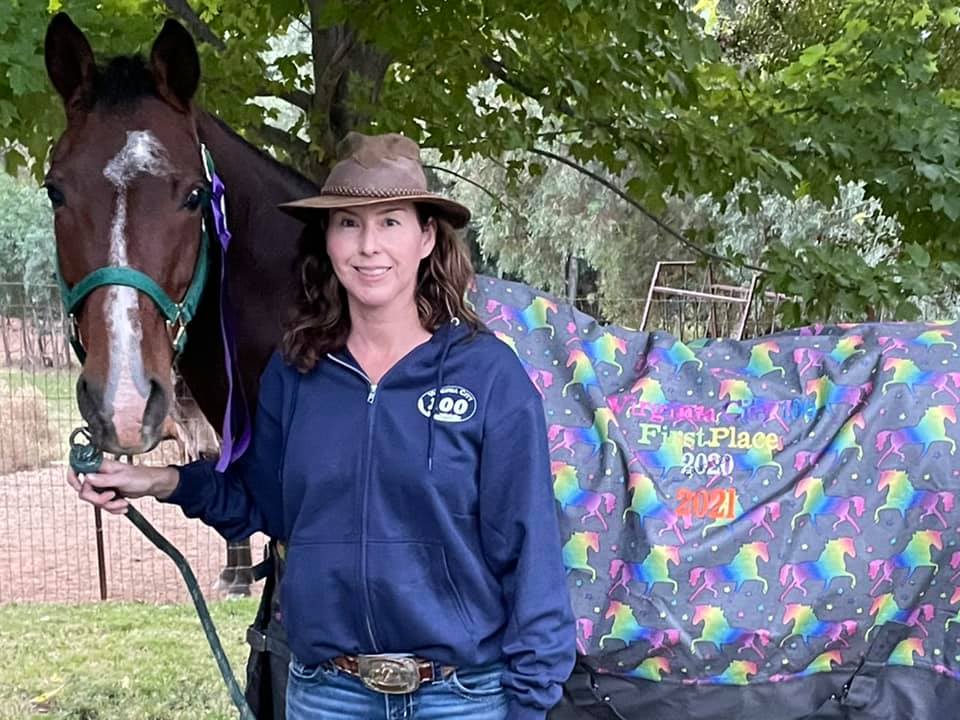 Broken ribs? Banged up knee and ankle? Lost stirrups in the gallop in the dark to the finish line? No problem for veteran rider Nicole Wertz in the Virginia City 100
October 22 2021
By Merri Melde-Endurance.net
Two weeks before Nicole Wertz and All For You were to attempt Nicole's 23rd Virginia City 100 finish, it looked doubtful that they'd even reach the starting line in front of the Delta Saloon.
Nicole's 13-year-old mare All For You ("Tinga") had a rider-option pull in her first 50-mile start in May of 2021.
In her second start two weeks prior to Virginia City, Tinga got hung up in a gate three miles into a 50-miler when Nicole's stirrup got caught; it ripped Nicole's leg and she eventually fell off onto a pile of rocks, breaking three ribs, hurting her knee and ankle, while Tinga ran off for two hours.
The obvious solution would have been to call it a day, but once Nicole caught her horse and had the vets thoroughly check her out and give her the all-clear, Nicole climbed back on Tinga for a 38-mile training ride. "She needed a good workout; she was going to VC!" Nicole laughed.
Tinga was the horse Nicole thought she could win VC on. "I won it in 2013, but it was a tie. So my goal was always, if I had the right horse, and the right setup, I would try to win it for real."
Nicole took a (whole) week off from riding, then took Tinga on a test ride six days before VC. "Just to make sure I could ride balanced enough, and think that I could do a hundred miles. Yeah - that's right - ride 100 miles slightly broken. But us endurance people are tough."
Hence she and Tinga made it to the starting line in downtown Virginia City, Nevada, at 5:00 AM on Saturday, October 16th.
Nicole and her good friend Kassandra DiMaggio, aboard One Sun, rode together most of the ride, chasing the leader Melissa Montgomery aboard Guns "N" Roses.
"We were behind her by about 15 minutes most of the day," Nicole said. "We just never seemed to be able to catch her. She's a fierce competitor. She's relentless. She had just done that Moab 240-mile foot race right before she came here. She's just an amazing, amazing, amazing woman."
At the 93-mile checkpoint, Nicole and Kassandra caught Melissa (she would cross the finish line, but her horse was pulled, as he had fallen with her on the last loop and ended up lame.)
That left Nicole and Kassandra vying for first place. Kassandra had a minute lead on Nicole out of the last vet check, but Nicole quickly caught her. "I think she thought she had me, and when I caught her she said, 'Aw shoot, I knew this was going to happen!'"
The two riders knew the VC trail well, and knew that the hardest section was after 50 miles. "There's an extreme amount of climbing between the 50 and 75 mile mark. It's like literally non-stop climbing. That's where you've got to conserve. And the last loop, the last 25 miles - if you've got horse - it's mostly pretty flat, so you can really move. And it's fairly good footing."
The race was on between the two friends the last seven miles. "We just rode along and rode smart, and right about when it was time to go, we went, and like Kassandra said at our awards ceremony, 'Nicole is a little more ballsy on the runaway down the hill!'
"And I ended up racing the last probably half mile with no stirrups, because I lost them. My ankle was a wreck. I almost fell off on the turn; Tinga switched leads and her saddle slipped. There was a moment where literally I thought, Ohmigod, I'm going to fall off and lose this race! And I was planning to fall off on the side I was already wrecked on…" Nicole's ankle had started to bother her at the 65-mile mark, and the knee pain had returned (and she didn't even mention her mending ribs). And now she was racing in the dark for the finish line with no stirrups.
"But I really didn't want to fall off, so I grabbed her neck and mane and I just figured, well, I ride a Grand Prix dressage horse, so I was like, I can ride without stirrups racing at a full gallop!
"And I did! And as we went over the finish line, I won by about a horse length. Tinga gave it her all. She didn't even have to dig into her gas tank. She really had a lot left." They finished at 9:39 PM.
Eventual third place finisher Jay Mero, riding Ozark Kaolena SWA, left the last vet check about a half hour behind Nicole and Kassandra, but those two sped up so much they put another half hour on Jay.
"We were moving," Nicole said. "But it was a beautiful night. Our horses know each other well. And Kassandra and I are actually really close friends."
After that great effort, All For You completed the ride (her second VC finish) with an impressive 48-48 CRI.
The next morning, Kassandra's Arabian gelding One Sun won the Best Condition award (One Sun is a son of French Open, who won the Tevis Cup with Heather Reynolds in 2014).
"That was icing on the cake. Her horse looked fabulous. It was great that both of us essentially got a win. I think that made it even more fun for friends, especially," Nicole said.
Nicole has owned All For You for four seasons. She originally bought the mare from Endurance rider Gwen Hall for her husband Josh to ride. "But he's not a serious rider, so I guess I stole her."
While you've often seen Nicole riding her homebred Friesian crosses, Tinga is a well-bred Arabian (Nivour de Cardonne X Tu For All, by Tron Ku Tu) who is a delight to ride.
"She's actually the funnest horse I've ever ridden, and I've ridden a lot of horses over the years. She is super fun. She's kind of like riding a dirt bike on a trail. She's very handy. She has a big floaty stride, but she's very easy to half-halt and get around tight corners. When you watch her, she's a pretty effortless mover. Her normal going-down-the-road trot is 12 mph. Big trot. That's just her normal speed. Slow for her is 10. She's a nice mover."
But she's a horse Nicole has had to manage metabolically. "She's been a challenge in that respect.
"I had encouragement from Heather and Jeremy Reynolds, who really like this mare, and have told me many times, do not give her away!
"I've had to figure her out. The Reynolds gave me some professional advice with their electrolyte protocol. And this mare just needs more electrolytes than I've ever given. She's one that needs it every two hours, and I just have to do that. And it seems to work.
"And we figured out that the best thing for her is she needs to do an Endurance ride two weeks before a hundred." (Or, say, a 38-mile training ride despite the fact you just sustained broken ribs.)
As for Nicole receiving her 23rd Virginia City buckle (second only behind Connie Creech's 26), that dream started when she was 10 or 11. "I don't know why, but I had a goal of getting 20 buckles.
"I rode a pony the first time I rode it at age 11. And by the time I was 20, I did have 10 buckles. And I did 12 consecutive years without getting pulled. I begged, borrowed, stole a horse so I could ride.
"Then life, college, whatever, horse, no horse; the years went by. It's been a while since my Friesian crosses have been going, so I haven't really had anything recently to ride. So there was kind of a gap."
Nicole obviously got her riding genes from her mom, 77-year-old Pat Chappell, a legend in her own right who rode this year for her 20th VC buckle. She and Nicole rode together until about mile 38, when her mom started dropping back. Pat ended up rider-option pulling at 60 miles. When Nicole isn't riding Virginia City, she's there helping crew for her mom or to support someone else.
All For You appears to like doing 100s, and it looks like she's got a few more Virginia City buckles in her future.
"When I couldn't start Tevis this year, (we had some issues with shoes falling off at the wrong time) Heather and Jeremy really encouraged me to get Tinga's feet repaired and 'Go win VC'.
"At the finish of Tevis [Jeremy won aboard Treasured Moments], Jeremy hugged me and told me I should have been right there with him with my mare.
"Their encouragement and positivity and believing in this horse really helped prepare us for VC this year.
"Despite many challenges we did it, and I am so proud!"