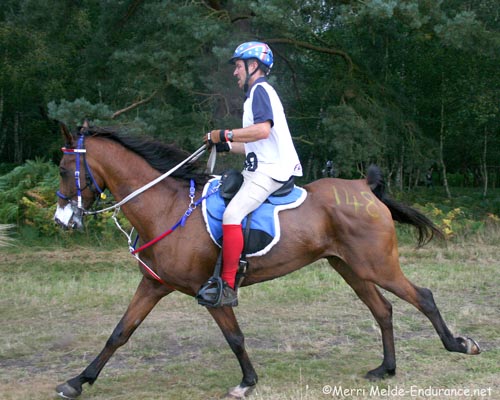 Exceptional fit in a 12-lb package
Oakland, California – March 7, 2013.  John Crandell III, the 2007 Chronicle of the Horse Overall Horseman of the Year and his famous horse Heraldic are household names in the sport of endurance. They were the first - and so far only - pair to earn the "Triple Crown" in the history of American endurance riding by winning the Virginia Old Dominion 100, The Western States Tevis Cup and the AERC National Championship in 2006. Still running strong with many national and international awards, Crandell and Heraldic won Tevis for the second time in 2010, won team and Individual silver medals at the Pan American Games in 2011 and represented the U.S. at the World Endurance Championships in England in 2012.
Crandell has a lifetime of experience in the sport of endurance, and he approaches each element of training and gear selection analytically. When he began using ReactorPanel saddles in training rides, he learned firsthand of the system's benefits.
"I had been aware of ReactorPanel saddles for some time," said Crandell. "I knew that Maria (Alvarez Ponton, the multiple World Champion from Spain) was using one. Then I got a personal introduction when I was training with Wendy MacCoubrey in Florida."
When he started using ReactorPanel saddles, Crandell noticed the difference in his horses right away.
"With ReactorPanel Saddles, you notice the extra freedom of motion that the horse has underneath you, which is tremendous" he said.  "The horses are willing to become more supple in their backs. You might notice it first going downhill where typical saddles tend to put extra pressure into the shoulder blades. These saddles sit exactly where they are supposed to be with little or no tension or assistance from a crupper or breast collar.  It particularly becomes apparent at the end of a long, long day of riding."
With the amount of conditioning required to be competitive in the sport of endurance, horses' backs change, develop and muscle up, sometimes going through multiple changes in a single season.
"Adjustability is always an issue," said Crandell. "Particularly in endurance riding the horses tone up and their backs change shape as they get fit. The ReactorPanel saddles help us to re-tweak things as the horse develops."
Carmi Weininger, President of ReactorPanel Saddle Company, was understandably pleased to learn that Crandell was interested in helping to develop a new RP saddle. She said, "John was conditioning in our saddles but felt they were too heavy for racing competitively at the FEI level.  During our first conversation in early 2012, he challenged me to make a lighter weight saddle. We got excited about the idea of providing the legendary RP fit in a lightweight package, and were able to design the first prototype in just a few months. John has been racing in our saddles since we delivered the first one in July, and has given us excellent feedback that has allowed us to improve the design."
"I really liked the standard RP saddles," Crandell shared.  "I was happy with the position I got. The horses always seemed to be comfortable, but they were a bit heavier than I could compete in. I weigh almost 155 pounds and unless I have a little lighter saddle, it leaves me giving too much advantage to other competitors by being over the 165-lb weight minimum for FEI competitions."
Crandell is thrilled with the lighter saddle he developed with the ReactorPanel Saddle Company. Finally, he feels he has the perfect saddle for competition for his body type.
"Like a lot of men, my hips are not that wide. The Heraldic saddle has the option of a particularly narrow seat with almost nothing under your thigh area. It really helps you to ride as you stand. Your legs fall very comfortably straight underneath you without straining your hips or legs."
"I finally feel like I have a saddle that I am going to be happy with for a long, long time," he continued.  "I have been making do with different saddles that had different drawbacks most of my career. This is the first time I have a saddle that fits me perfectly and fits the horse perfectly."
Crandell couldn't be happier with his ReactorPanel experience.
"Carmi has been wonderful. I've come to expect her to give objective advice. You can tell that she just enjoys considering everything openly.  That really gives you confidence," he said. The ReactorPanel "Heraldic" Endurance Saddle retains all of the fitting principles of the ReactorPanel system, including flexible panels on user-adjustable shock mounts using aviation grade velcro for almost infinite adjustability. This saddle is available now in a 12-lb version, with an even lighter saddle in the works. Pricing starts at $2500.
The ReactorPanel Saddle Company, based in Oakland, CA, makes saddles for multiple disciplines including dressage, trail, endurance, eventing, hunter/jumper and fox hunting.  Policies are as unique as the products. Saddles are not for sale until the rider has gone through a two-week evaluation, which is free (except for freight).  Saddles are fit and adjusted by specially trained Fitting Agents, or by users who enjoy do-it-yourself projects and access the company's unlimited customer support, user's guide, and how-to YouTube videos.
MEDIA CONTACT:
Evie Holt
ReactorPanel Saddle Company
evie@reactorpanel.com
510-698-6272