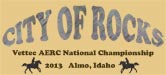 www.endurance.net/AERCNC2013
March 24 2013
Teddy Lancaster of
Running Bear
Endurance and Trail Riding Essentials is the latest entity to join as a sponsor for the 2013 Adequan® AERC National Championships to be held in Almo, Idaho on September 20-22.
Teddy will supply 100 Rider Vet Cards for the event.
Susan Garlinghouse DVM and Art King DVM are the newest members of the Veterinary staff, along with Head Veterinarian Michael Foss DVM and Robert Washington DVM.
Check the website regularly for updates and news, trail videos, and google earth fly-overs.
http://www.endurance.net/AERCNC2013
Entry fees and applications will be posted soon.