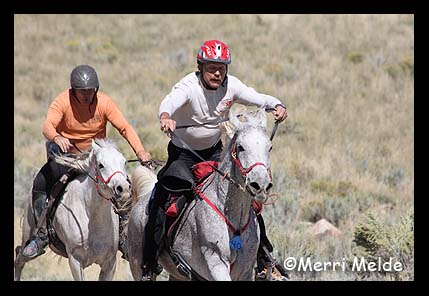 July 6 2016
by Merri Melde-Endurance.net
Many of you probably know Christoph Schork as a long-time endurance rider. Or you might know him as a runner or biker or a ski coach or an all-around "outdoors guy." Maybe earlier on you might have known him as a rock climber or mountaineer, kayaker or sailplane flyer.
After this weekend in Colorado at the new Doubloon 50 mile endurance ride, you can refer to him as the Three Hundred Win Man. When he crossed the finish line in first place on Sunday, July 3, 2016, Schork set an AERC record that is unlikely to ever be equaled. Win number 300 put Schork far ahead of the sport's next two winningest riders, Linda Hamrick with 163 wins, and Darolyn Butler with 162 wins.
Riding the 8-year-old mare GE Pistol Annie, Schork tied for first place with Kerry Redente, riding TM Burning Bridges (owned by ride manager Tennessee Lane), in a ride time of 7:06.
"I'm so proud of Christoph and happy he was able to reach 300 wins here," Lane said. "Christoph and Dian are like family to me."
The 300th win was a little spot of brightness during a time of great sadness for Schork and the endurance community at large. Close friend to many, endurance rider Kevin Myers died suddenly 4 days earlier, and he was close in the thoughts of many riders over the weekend.
"Everything is a little dampened by the tragedy that had happened," Schork said, "but it was nice to have something that pulled us out of the doldrums. It felt really uplifting and positive, to reach a goal, a landmark number nobody in the world has reached.
"I know it's just a number, and it's just 1 more than 299, but still, as humans we are all number oriented. I raised the bar, and accomplished my goal, and I felt really happy about it."
Besides the record 300 wins, Schork, 63, originally from Germany and now from Moab, Utah, has amassed an impressive 30,500 AERC endurance miles over his 29-year career, (11th on the all-time mileage list) with 549 completions out of 593 starts - an incredible 92.5% completion rate. He has finished 42 out of 59 100-mile rides (including 5 Tevis Cup finishes), and his horses have won 128 Best Condition awards. Schork also won Australia's 2007 Tom Quilty Gold Cup - the equivalent of USA's Tevis Cup - aboard Arovo Mini Harvest, tying with Anton Reid (who supplied Schork with the horse) aboard Endurowest Kumari.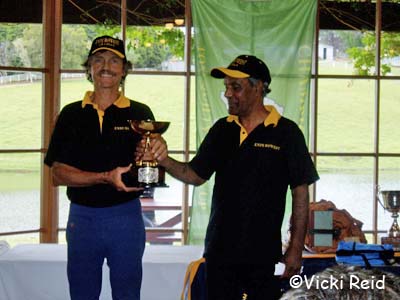 Schork and Anton Reid tie for first place in Australia's 100-mile Tom Quilty, September 2007
It was Dian Woodward, Schork's life partner and business partner in Global Endurance Training Center, who first noticed GE Pistol Annie at a breeder's farm in eastern Idaho when Annie was 3. "She had a nice disposition, nice conformation, and breeding was nice. Everything seemed to fit, so I went and picked her up," Schork said. "We just took our time training her, conditioning her. Now she is doing very well."
"Very well" means that Annie, a half Arabian (by Sulte) half Quarter horse, currently has a perfect 25 start-25 finish record in 1400 miles over 3 seasons, with 15 wins and 9 Best Condition awards.
Another mare that did very well for Schork is GE Stars Aflame. The 14-year-old mare by Flaming Tigre out of Samoa Star, by Samstar, has a record of 2940 miles over 8 seasons, with 54 completions in 57 starts, 12 Best Condition awards, and an astounding 38 first place finishes - the second most wins of Schork's record.
Along the way, this pair garnered numerous AERC awards, including 2010 War Mare award (the most points accrued by the same mare/rider team during the season), 2011 National Middleweight 100 mile Champions, and 2013 National Middleweight 50 mile Champions. And it was Stars Aflame that Schork was riding when he won his 200th ride (also an AERC record) on September 18, 2010, at the Las Cienegas 100-mile ride.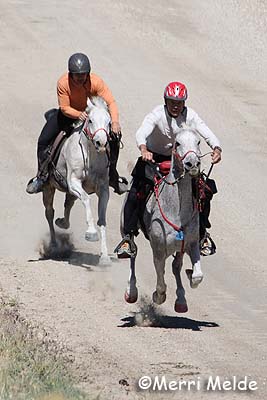 Schork and GE Stars Aflame win the 50-mile AERC National Championship in a thrilling race-off with Dennis Summers and Hey Soulsister, September 2013
Schork and Woodward got Stars Aflame, aka "Dapple," sight unseen, in a package deal of 6 racehorses from Florida 8 years ago. "We liked her dam and sire. Looking at her, she's a little small, but it doesn't bother her!"
Her nickname "Dapple" came from the fact that Schork didn't immediately know any of the horses' names, and referred to her as "the dapple" in choosing to keep her. "The nickname is totally not applicable anymore. There are no more dapples; she's just flea-bitten. But the name stuck."
Schork's most wins (41) came aboard GE Double Zell. By Brusally Orlen out of Little Sisterzell, by Brusally Orlen, the 2001 chestnut gelding completed all 58 of his starts, covering 3150 miles over 8 seasons (another win came with Carla Lakenbrink in 2013). He completed all 6 of his 100 mile starts, including 4 Tevis Cup finishes (1 with Schork; 3 with other riders).
Double Zell came from Scott Powell's Arabian herd in Salt Lake City. "He had tons of horses and they were all running loose. We went there and looked at some of them, and that guy [Double Zell] just followed us around and stood right next to me as if he belonged to me. Everything else fit, so that's why we got him."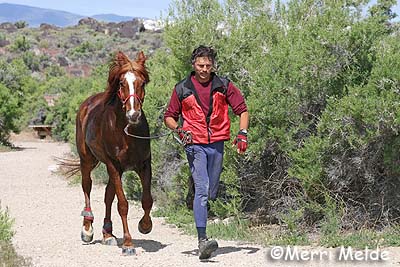 Schork and Double Zell win the Owyhee Fandango 100, May 2010
Schork has also had great success riding a number of horses bred by Robert Bouttier's Drinkers of the Wind Arabians in Bellevue, Idaho. Bouttier was one of the first breeders that Schork met when he first got into endurance riding in 1988.
DWA Sabku +// was the first Drinkers of the Wind Arabians horse Schork rode. By *Sabson out of Saranade, by El Camino Samir, Schork had 13 wins aboard DWA Sabku over six seasons together. The gelding ultimately earned 4370 miles over his 15-season career, with 78 completions in 85 starts, with 11 100-mile completions in 14 starts, and 18 Best Condition awards. Schork leased DWA Sabku to UAE rider Ali Khalfan Abdullah Hamdan Al Jahouri for the 2004 Tevis Cup; the pair finished fifth, though they were on track for a possible win before Al Jahouri went off trail near the finish.
DWA Powerball was another horse that played a large role in Schork's win record.
Schork rode the gelding to 31 wins in 8 seasons (Woodward also rode him to 3 wins). The 1997 gelding by *Sabson out of WMA Lotto, by Cacko, went on to earn 3720 career miles with 72 completions in 75 starts.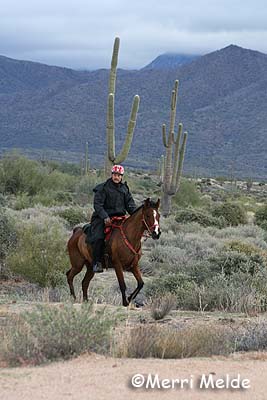 Schork and DWA Powerball finish 2nd in the 50-mile Resolution Ride, December 2010
"It is an honor to have Drinkers of the Wind Arabians horses, owned and campaigned by Christoph Schork, contribute to 67 of his 300 wins," Bouttier said.
Riding so many good horses to so many wins, Schork is diplomatic when it comes to choosing his most favorite horse. "You know, to be honest, I get along with just about all of the horses," Schork says. "Do I have really a favorite? Let's put it this way. I have a lot of favorite horses. And what makes them my favorite horses is they work with me, if I want to get off and run, if they tail, if they are eager to compete, if they are high spirited, if they love the sport. That's what makes them my favorite."
It's this relationship with horses that is one reasons why Schork enjoys endurance riding so much, and one of the reasons he's been so successful.
"It's why I like endurance rather then jumping or dressage, because you are with the horse for so many, many, many hours at a stretch. You get to know each other. You can develop that partnership much more in depth as compared to fast, short timed equestrian events."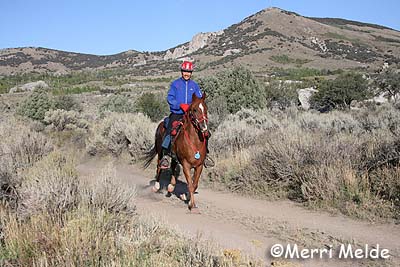 Schork and GE Starlit Way finish 7th in the 100-mile AERC National Championships, September 2013
Schork also enjoys the basic endurance aspect of the sport. "I always did long distance sports myself. And I like to cover ground. I like to be in the wilderness. I like to be out there where there is nobody, so to speak, and really cover ground. Even as a kid, I liked to cover a lot of ground."
Besides taking from on 1 to 5 horses out on conditioning rides every day that he's not at an endurance event, Schork conditions himself as diligently as he does his horses. "In the summer I do mostly running and mountain and road biking, and I do some swimming. I go to the gym where I do some weights as a cross training to kind of stay balanced muscularly within my body. I always try to do some yoga, as well - a little more in the winter. It's just to stay limber and to stay stretched and balanced out. I think yoga and balance are probably more important than strength and conditioning."
Schork credits long-time and early endurance riders Bob and Arlene Morris, from Idaho, as being his earliest mentors whom he looked up to and learned from. Schork got one of his first endurance horses from the Morrises, Dahn Hallany, and began his AERC career on a winning note (the duo won their very first AERC ride, and overall placed first 4 times and second 6 times). "I was new to endurance," Schork recalls, "and I also didn't know much about what you looked for in an endurance horse. I went strictly by conformation then. And kind of a little bit by how I felt about him - a little instinct."
His instinct and feeling naturally grew into knowledge over the years as his success at winning grew. Factors that Schork considers that helped him achieve such success he can put into 3 succinct points. "First is having the goal - being goal driven. Second is to have a plan. And third is attention to the detail.
Always
attention to the detail."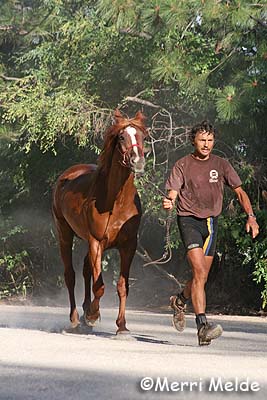 Schork and Double Zell finish 12th in the 100-mile Tevis Cup, July 2010
It sounds simple, but there is so much that goes into details of bringing along and successfully racing an endurance horse with the objective - besides winning - of having a sound, healthy horse at the finish.
Schork elaborates, "I'm talking everything, from breeding, selection of the horse, training, conditioning, proper schedules, saddle fit, hoof care, to all these things that make up a successful ride. It's watching the horses, studying the horses, knowing when they can do it, and also understanding and knowing when they cannot do it. It's knowing when something is missing, just really being in tune with the horse, being in touch with it, feeling it, working in partnership with the horse."
Fellow endurance rider and competitor and friend Dennis Summers compliments Schork, "I say this about very few people. As well as being fearless, Christoph is a true horseman. It is not dumb luck that got him 300 wins. He has many tools in his toolbox, from selecting great athletes and preparing them well, to great race strategy. He is a great competitor, a great sportsman, a great friend. My hat is off to him."
As if all the horse riding and personal conditioning didn't keep Schork busy, he still finds time, at Global Endurance in Moab, to train and teach other endurance riders, and to host endurance workshops and hoof clinics. And at multi-day endurance rides, if Woodward isn't along, as if Schork didn't have enough to do with 3 or 4 horses to care for and ride (and possibly a few dogs to keep an eye on), he still has time to help other riders with tack, or advice, or gluing on hoof boots, or giving a clinic. The man never stops moving and working.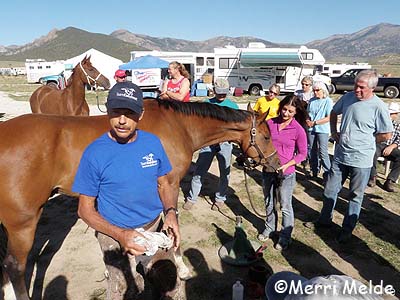 Schork giving a hoof clinic at the AERC National Championships, September 2013
Another endurance rider Kevin Waters also compliments his friend, "On the trail Christoph shows up with horses conditioned and ready to go. Tack, boots, feed… all correct. While accumulating all these firsts he has done it uniquely by keeping a string of ten or so horses in race condition (along with partner Dian Woodward.)
"To learn and compete on that many horse personalities to the success he's had is an astronomical achievement of hard work and horse understanding! He's a great person on and off the trail."
Despite his record-breaking achievement, Schork has some fairly modest goals. "I want, of course, to keep on riding, and keep on placing well and doing well. And I would like to win more national awards."
It's a pretty safe bet that the Three Hundred Win Man will accomplish that.
Top photo: Schork and GE Stars Aflame win the 50-mile AERC National Championship in a thrilling race-off with Dennis Summers and Hey Soulsister, September 2013