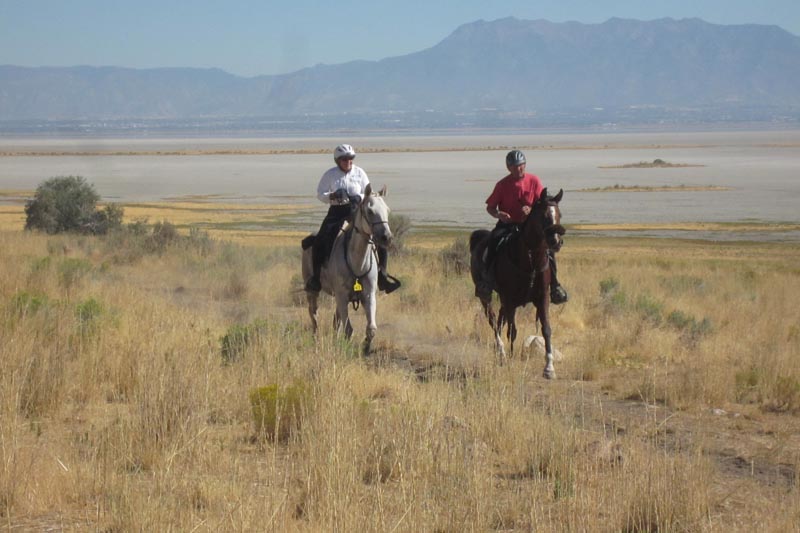 by Merri Melde-Endurance.net
"Welcome to Antelope Island State Park and the 2016 AERC National Championships," said ride manager Jeff Stuart. "If you're here, congratulations. It's a privilege for you and your horse to be in this ride. It means you are both healthy and fit, and you met qualifications to be here."
The Antelope Island endurance ride was started in 1994 by Dean and MJ Jackson. The ride has been handed down through the years to different managers; Jeff Stuart took over the reins from his aunt Shirley Brown 3 years ago. Assistant Ride Manager Tonya Stroud has been part of the event for over 10 years; they are all rightfully proud of their unique multi-day ride on this 14 square mile piece of land sticking up out of the Great Salt Lake (you could actually call the island a peninsula now, because of the low water level), with challenging and scenic trails, and views and herds of buffalo to ride amongst. There are also herds of deer, antelope, and big horn sheep. Antelope Island ride management felt this would be the perfect venue for the AERC National Championships, which roam between the regions every year.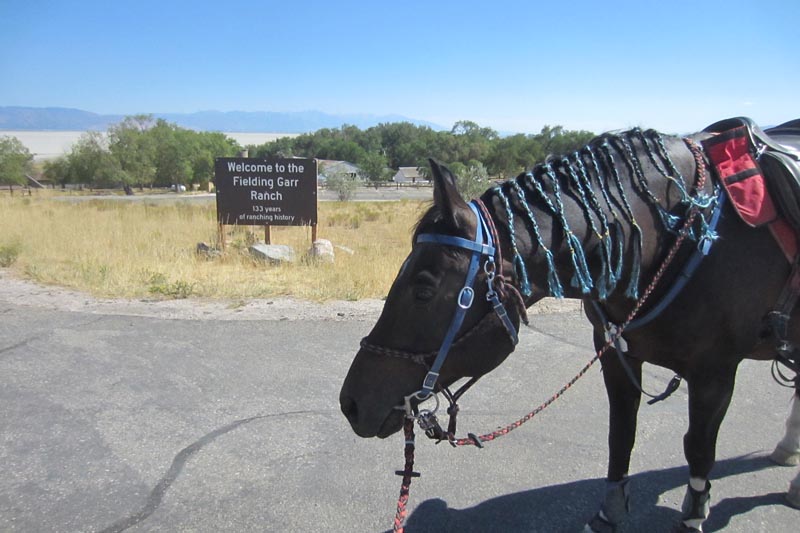 Basecamp was in a fenced-in field beside the Fielding Garr ranch on the southeast end of the island. Native Americans were, of course, the first dwellers on this island; in more recent history, Mormon pioneers arrived in the 1840's. The island was used as a cattle and sheep ranch, established in 1848. The island changed hands over the decades, and the State of Utah bought the northern half of the island in 1969, and the rest of it in 1981, when it was established as a State Park. Our ridecamp was right by the original ranch buildings, which include the adobe ranch house, silo, bunkhouse, stables, springhome, and blacksmith shop, but I never had one whit of extra time to even think about it, much less visit anything. In fact, I brought my banjo to plunk in the evenings with any willing musicians, but I was so busy I didn't even remember that I brought it!
At the Antelope Island ride over the years, there'd been some interesting in-camp buffalo/horse encounters (ask Tom Noll about his mustang Whiskey having a nose-to-nose wild animal story telling conversation with a buffalo one night a few years ago), so this new fenced area was nice so we didn't have to worry about anything!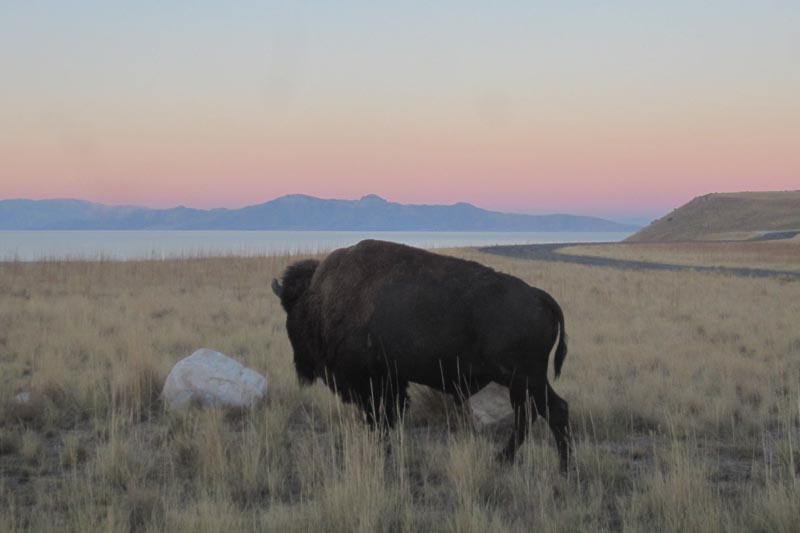 It was rather Wild West-ish, driving onto the island at dusk, seeing great big buffalo beasts silhouetted in the colorful western sunset. Not many places left on the planet that you can do this.
It was also bittersweet, coming to the National Championships here, knowing that two people who would have, should have been here with us, were not.
Kevin Myers and Sue Hedgecock,
I still miss you both with a stabbing ache, but I know you were here with all of us in spirit.
While National Championship plans had already been underway since early in the year, a lightning-caused wildfire that started on July 21 about caused heart attacks for ride management, as they watched smoke and flames on the west side crest the island's spine and start down the eastern slopes. 15,000 acres burned, but it only affected 20% of the ride's trails, and eventually the go ahead for the ride was given by the park less than a month ago.
Attendance was unfortunately low at this National Championship; ultimately 21 would ride the 50 and 17 would contest the 100. However, it was a good group of people - it reminded me of a big family reunion with friendly competition between riders and friends.
One thing that I find particularly neat and unique about the sport of endurance, and the AERC National Championships in particular, is that you don't have to be a racing fool to participate. I have no competitive bones in my body, and I don't ride your typical endurance horse. Owned by Steph Teeter, Belesemo Dude, aka Dudley, is part Arabian, part Orlov Trotter, part fat, part naughty, and part management nightmare (his main goal in life is to overeat, and just wait till he tells his Saturday stomach pumping story), but Dudley and I still got to participate in this same national event with Hall of Famers, Tevis Cup Top Tenners and Haggin Cup winners, National Champions, and multi-thousand mile riders. The big names were mostly in the 100 mile event, and we'd be riding the 50, but I still shared the same endurance trails with these elite riders that I admire and look up to.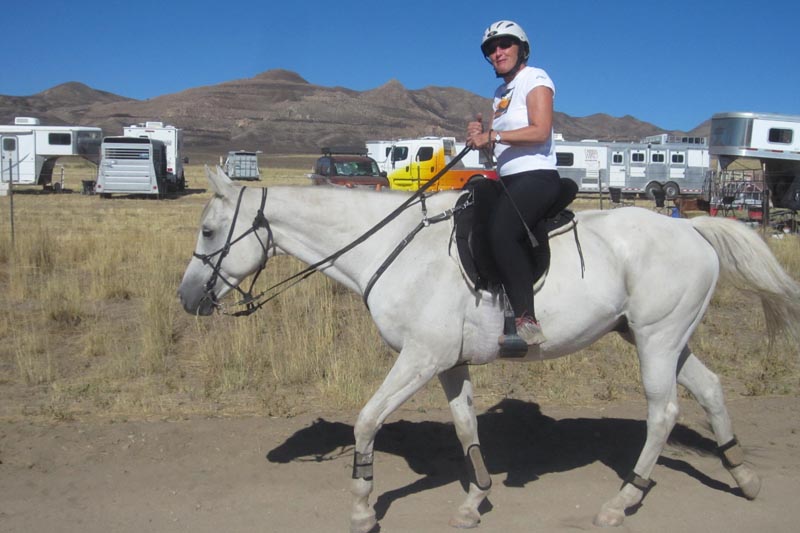 Pard'ners award Hall of Famer Suzy Hayes, riding "Atlas"
I knew I'd be riding Dudley slower, as this was only his third endurance ride of the year - my goal was to win the prized Turtle pillow (for last place) that assistant ride manager Tonya Stroud makes. Fellow Owyhee up-the-cricksters Connie and Sarah, riding DWA Saruq and Noble Desperado, would be riding faster, so I'd either have to luck out and find a riding partner, or try to get Dude through a ride by himself, at a new venue. With buffalo. I ride Dudley all the time by himself at home, but endurance rides are a different situation. Particularly endurance rides with buffalo. Dudley knows cows, but I wasn't sure I'd be able to convince him that the buffalo were just Big Fat Hairy Cows.
On Wednesday, the day before the 50, I saddled up Dudley and took him out alone, starting up the trail on foot, as he was a bit leery of the new Utah scenery. I was hoping we'd see buffalo somewhere, so he could give them the stink eye today, instead of tomorrow during the ride. It just so happened that another rider came up behind us, and it turned out to be Julie Muscutt, riding her 9-year-old gelding Satin Image AZ. This pair was the winner of the 2014 AHA Purebred Arabian Distance Nationals CTR in Idaho.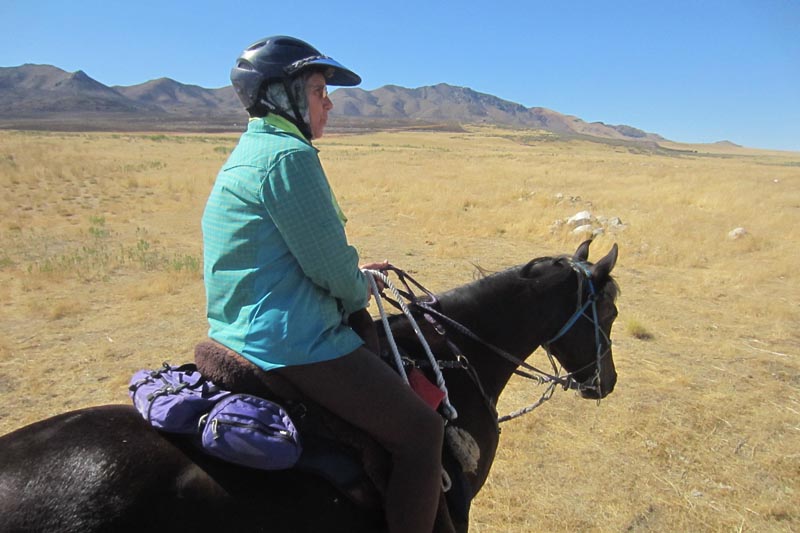 I asked if we could tag along, and Dudley got to follow an experienced CTR and endurance horse, and get a decent look at buffalo for the first time. He didn't really care much about them, since he participates in the occasional cattle drive at home, and since I insisted, "Really, I swear Dudley, they are just Big Fat Hairy Cows!" He got in a good workout for a couple of miles and a taste of the trail he'd be riding in the morning.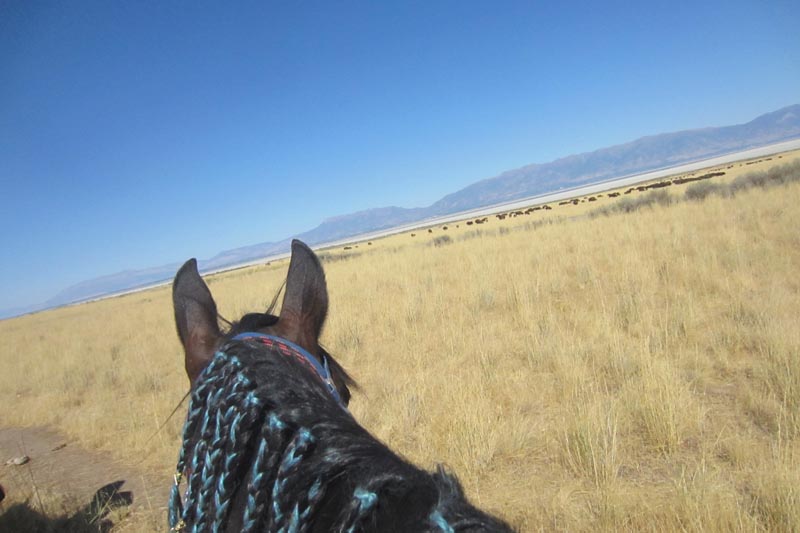 Later in the day I got good news: Simone Mauhl, from our area in Idaho, would be riding her horse Boogey on his first 50 (in the non-championship division), and yes, they would be our riding partner, and yes, we'd ride slower, and yes, we'd start at the back of the pack!
It was going to be a great day!
Part 2, coming soon!
Results photos and more at:
http://www.endurance.net/international/USA/2016AERCNC/