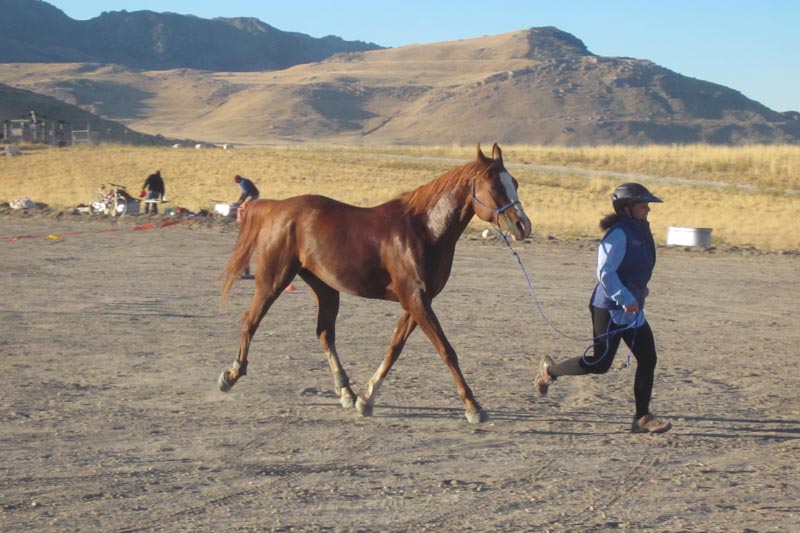 by Merri Melde-Endurance.net
Part 1 is here.
Part 2 is here.
Just 17 starters in the AERC National Championship 100 on September 10, but it was a strong, competitive group. Riders left on the trail at 5 AM, dark.
Suzy Hayes and Greenbriar Al Jabal ("Atlas") led the way out, and yes, it was quite dark. "I couldn't see anything!" Suzy said later. "Like my husband says, 'It was darker than the inside of a cow!' I just had to trust Atlas and let him go." Just four miles out, she found herself splitting a herd of buffalo, but Atlas just carried on.
An expectant group gathered at the out vet check at the White Rock Bay parking lot: vets (head vet Olin Balch, Karen Balch, Greg Fellers, and Jared Christensen), vet students, who would be taking pulses and getting a taste of vetting at an endurance ride, crews, and friends of crews.
Out to watch and participate for the weekend was Robert Bouttier of Drinkers of the Wind Arabians, sponsor of the 50 and 100 Mile Championship winners and Best Condition, with custom blankets. Robert enjoyed jumping in to help Christoph at the vet checks; Christoph has partnered in the past on several successful horses bred by DWA Arabians.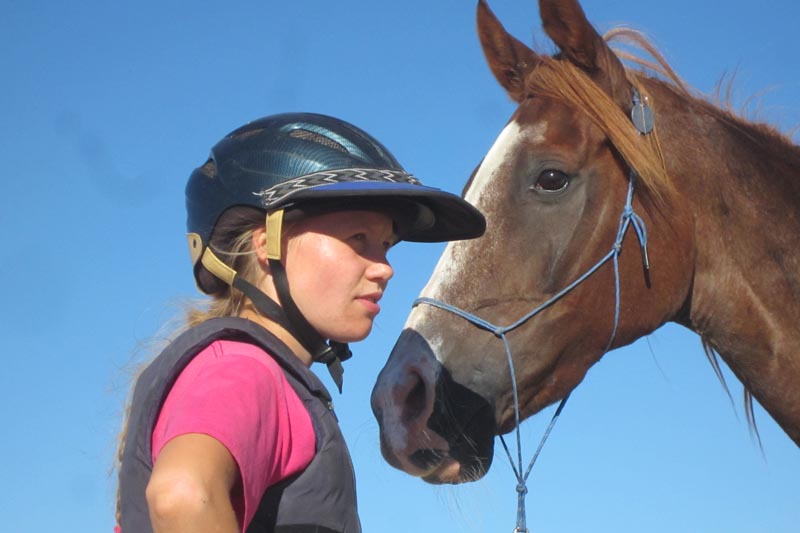 Anya and Monk
It was a treat seeing Junior Anya Levermann's father, Peter, present at this ride. He was giving his wife Katrin a break for the weekend. Peter and Anya drove down from BC (Canada) in their car, taking two days to get here. Anya was riding Chris Martin's Monk, whom she rode to a 5th place in the Sunriver Classic 105 in June. I like to call the Levermanns endurance jet setters, as this year, Anya and, often, her mom, are traveling all over the country doing 100 mile endurance rides together, including the Titanium Run, Big Horn and Santiam Cascade. Anya is, in fact, tied with fellow Junior rider Alex Neihaus for the Junior National 100 mile award - both were at 405 miles before the National Championship. Alex was also riding this AERCNC 100 on her horse Airborne, with her grandmother Joyce and Joyce's newly minted Hall of Fame gelding, LV Integrity.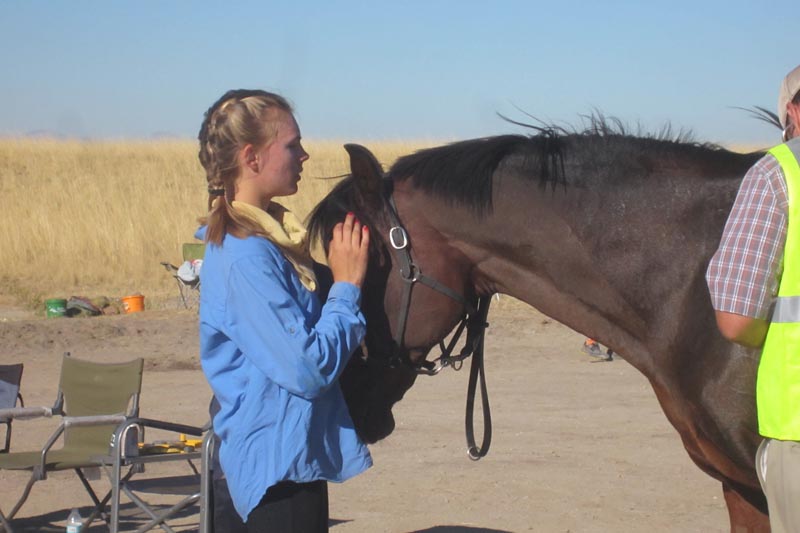 Alex and Airborne
The first riders began arriving into the first pulse-down-trot-and-go vet check at 14 miles in just under 1 1/2 hours. It's a flat, nice, rockless stretch that horses can move out on.
The leading riders into this first check were a hint as to how the finish would ultimately turn out late in the evening. Dean Hoalst (Pay Attention) and Melissa Ribley (Ever Ready) were the first to arrive, with Suzy Hayes close behind. Dean and Suzy pulsed down first ahead of Melissa. Just after them were Leah Cain (OT Dyamonte Santo), Pam Bailie (Bailie Skrit Ablane) and her sponsoree, Anya Levermann (Monk). After a gap of 9 minutes, Ann Hall (HCC Zara RR) pulsed down, followed by "the two Jennies," Jenni Smith (M Dash Stella) and Jennifer Waitte (M Dash Czoe), aboard Waitte's two homebred mares.
The rest of the riders trickled in over the next 23 minutes, a spread of 41 minutes between first and last: Christoph Schork (GE Pistol Annie), Alison Farrin (Shalimar Yukon), Kevin Waters (Belesemo Impressario), Joyce Sousa (LV Integrity) and her granddaughter Alex Niehaus (Airborne), Robert Ribley (Regret), Kecia Smette (LC Tripleplay) and Kathy Backus (Dynazel).
Thursday's 50-mile winner, Jill Haunold, helped crew for Dean Hoalst. Jill and Dean rode together for the first 14 miles of the 50. Dean had the smallest crew bag ever in the 100 mile ride. It was so small - it was packed for 4 out checks at this spot - ride management overlooked it off-loading everybody else's crew bags. In fact we were so astounded by Dean's tiny bag, that we rummaged through it, so that we could perhaps learn how not to pack body bags full of things for single out vet checks.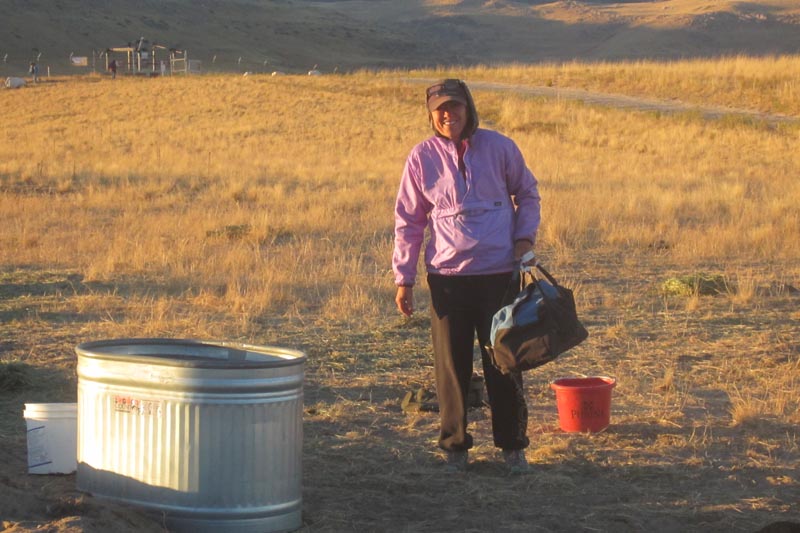 Seriously, look how small Dean's vet check bag is!!!
I mentioned in Part 1 how this ride was small in numbers, but big on friendly competition, and seemed like one big family. At this vet check, and throughout the day, while crews waited around for their own riders who were on trail, almost all of them jumped in to help other riders when they came in to the vet checks.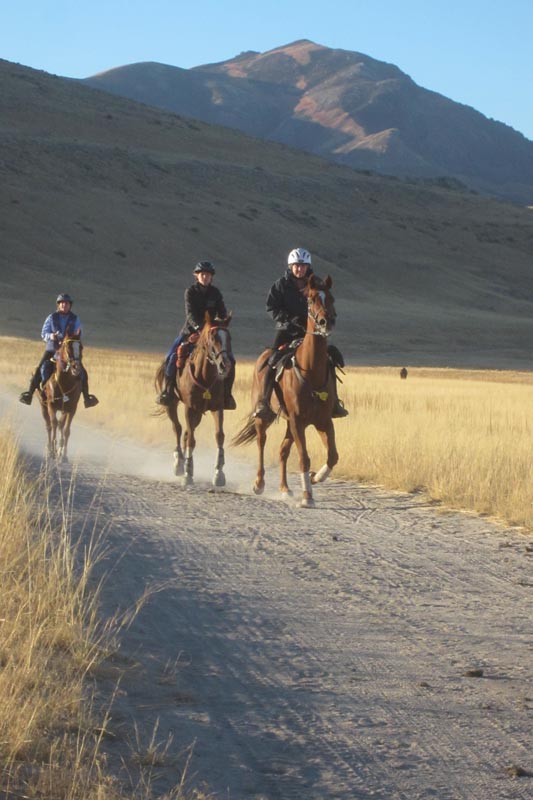 L-R: Leah, Anya, Pam
The horses headed out onto the mountain to finish their 14 mile loop, back into this out vet check for their first hour hold. Dean, Suzy, Leah, Pam, Anya, and Melissa were still within 3 minutes of each other at the end of the 14 miles. This group kept up their fast pace and left a gap between the next group of nearly 30 minutes. Ann and the Two Jennies arrived next, and unfortunately Jenni Smith's mount M Dash Stella was pulled for lameness. Jenni and Jennifer always have a good time riding together, "chattering away," Waitte said, but Waitte and Ann Hall teamed up the rest of the day, also having a great time together and chattering away whenever I came across them. The great smile never left Ann's face all day; she was thrilled to be riding on Antelope Island for the first time, and for the stars to align for her to be riding her beloved Zara in the Championship 100.
Following them 10 minutes later were Christoph, Kevin, and Alison. There was an approximate 45 minute gap back to Joyce and Alex, followed by Robert, Kecia, and Kathy.
Next was a 22 mile loop, back up the mountain for an abbreviated repeat of the previous loop, then the 12 mile stretch back to basecamp at 50 miles and another hour hold. The morning had started out quite chilly - cooler than all the previous mornings - but the day was quickly warming up and, with no wind, becoming the hottest day of the week.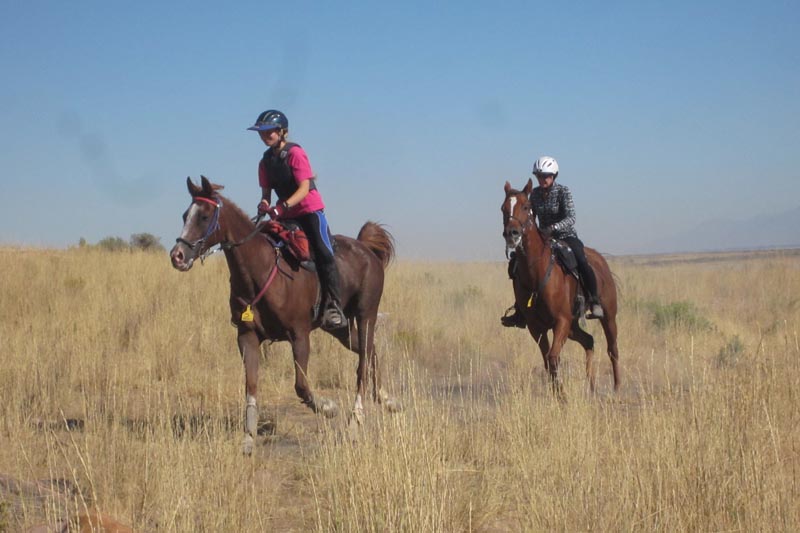 Leading the way into camp at the 50 mile mark were Anya and Monk (he was full of beans today for Anya, who was riding him in a sidepull) and Pam and Bailie. Melissa and Leah, then Dean and Suzy, were hot on their tails. Leah's and Pam's horses pulsed down first; Pam would wait for Monk who pulsed down 4 minutes later, so it was Leah and Santo who would head out first on the second half of the hundred.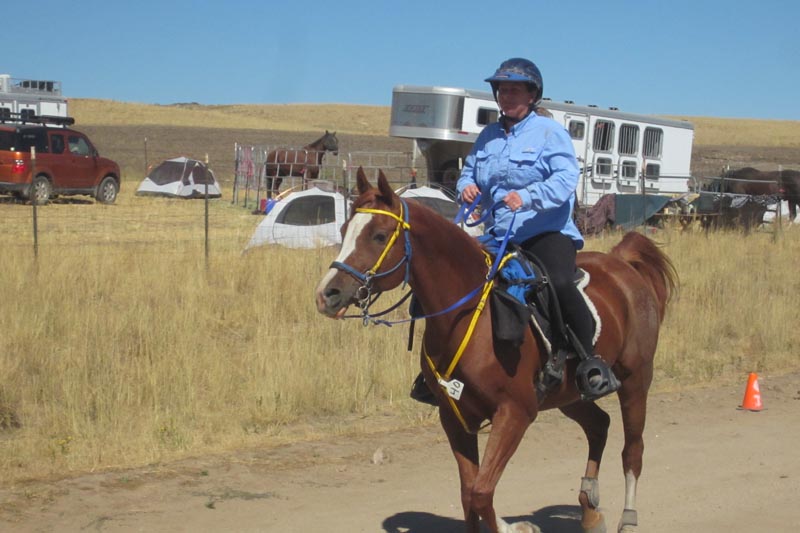 The next few miles were a long, hot climb up the south end of the island's mountain, 14 miles before the next water stop (it was impossible to haul water anywhere on this loop, "so make sure your horses are well hydrated before you leave camp," ride manager Jeff Stuart cautioned, "and ride accordingly"), and another 6 miles into the out vet check at 70 miles.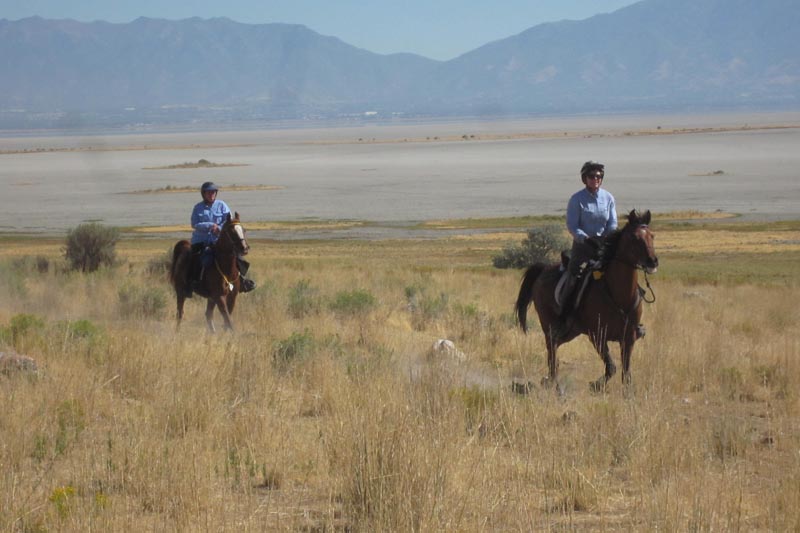 Leah and Melissa
All 6 of the front horses pulsed down within 5 minutes of each other and passed the vet check, cleared to go. But as the lunch stop went on, Dean was concerned that his horse wasn't eating. He opted to stay longer in the vet check, and eventually pulled rider option, because he decided it was not their day. Kathy Backus' horse Dynazel pulled here for lameness.
Suzy Hayes and Atlas left in second place on the next loop, but Atlas also had not eaten all that well at this vet check, which was unusual for him. So she was going to baby him the next stretch, ride him according to how he felt, and not push to stay in or near the lead.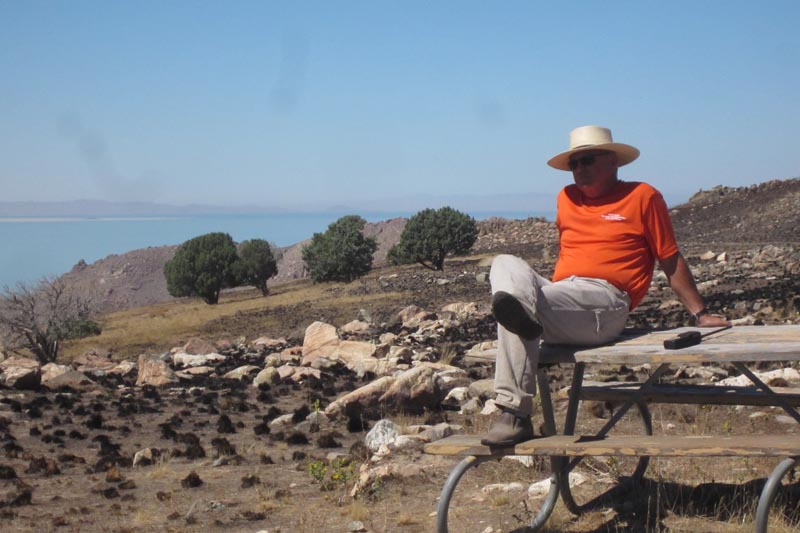 Ride manager Jeff took me on the ATV on the start of this loop, the long, sometimes steep climb up this Sentry trail to the ridge on the southern half of the island, with a terrific view of the eastern half of the Great Salt Lake (and ridecamp far below) and the western half of the lake. I hung on for dear teeth-gritting life and thanked my lucky stars for a good driver and trusty ATV! We passed Ann and Zara, Jennifer and Czoe going up the hill; then we waited for them on top to trot on by us. Of course they wore big smiles on their faces. These two got a lucky glimpse of a few of the island's big horn sheep herd.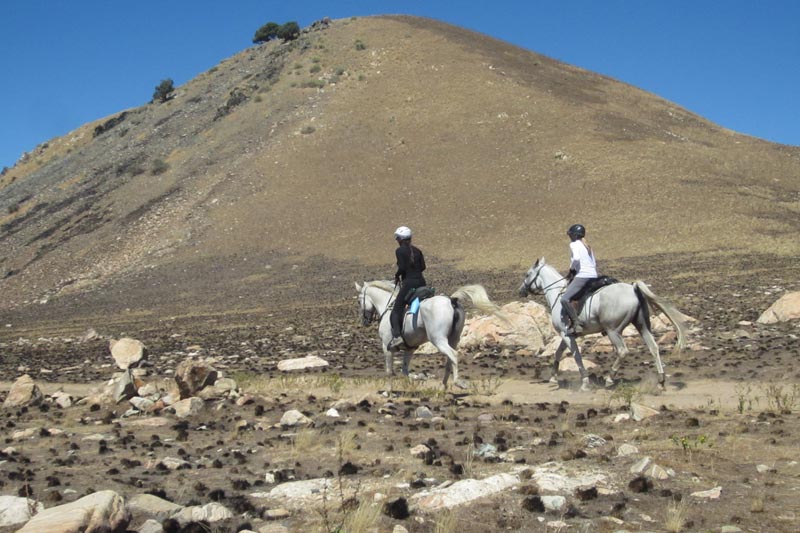 As Jeff and I headed back down on the ATV, we met Christoph, Kevin, and Alison coming up the mountain. Christoph and Kevin were on foot. Running. Uphill. In the heat. Christoph estimates he was off and running some 10-15 miles of the ride - his customary MO for endurance rides. (Kevin may have run double that; leaving the last out vet check in the late afternoon with 28 miles left, he walked and ran on foot, managing his horse who had earlier had an occasional hitch in his hind giddyup.)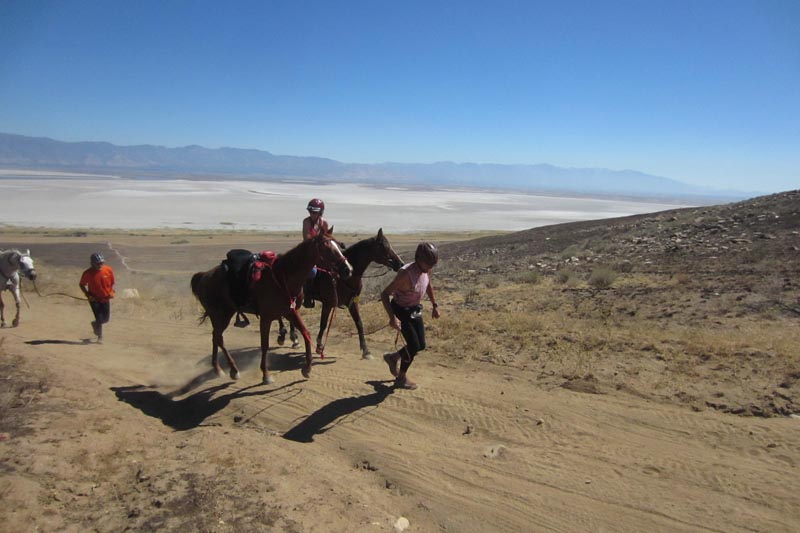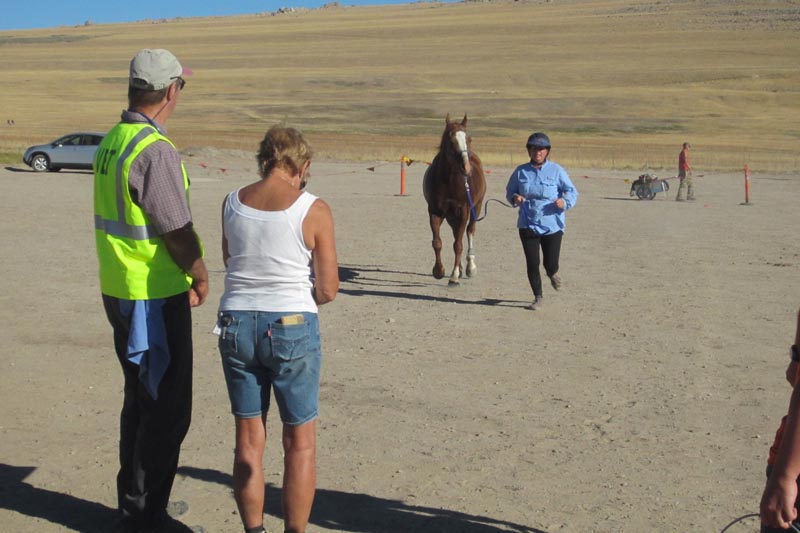 First into the 70 mile out vet check for a 1 hour hold, just after 2 in the afternoon, was Leah and Monte, 2 minutes ahead of Pam and Bailie, Anya and Monk. Melissa and Ever Ready were another 2 minutes back, followed by Suzy and Atlas a minute later. The gap to the rest of the group was 52 minutes. There were still approximately 30 miles to go, where anything could happen, but these front runners still looked strong after this hot loop.
Ann and Jennifer arrived next. "That stretch was amazing," Ann enthused. "It was beautiful! We rode up to these big cliffs, and I watched Jen up ahead of me, and it looked like she was going straight up this rock wall." Those two were followed 40 minutes later by Christoph, Kevin and Alison. Still later were Joyce and Alex, Kecia, and Robert.
Heading out for one more loop in the mountains of around 14 miles, riders came back through the vet check for one more 20 minute hold. First in again was Leah, maintaining a two minute lead over Pam and Anya. Suzy Hayes and Atlas had moved into 4th, 5 minutes behind Monk. Atlas ate better at the out vet checks, and he perked up more as the weather got cooler. Suzy was letting him dictate his own pace. With only 7 minutes separating these top horses and riders, with 16 miles to the finish, and with the weather cooling down, any of them could arrive home first.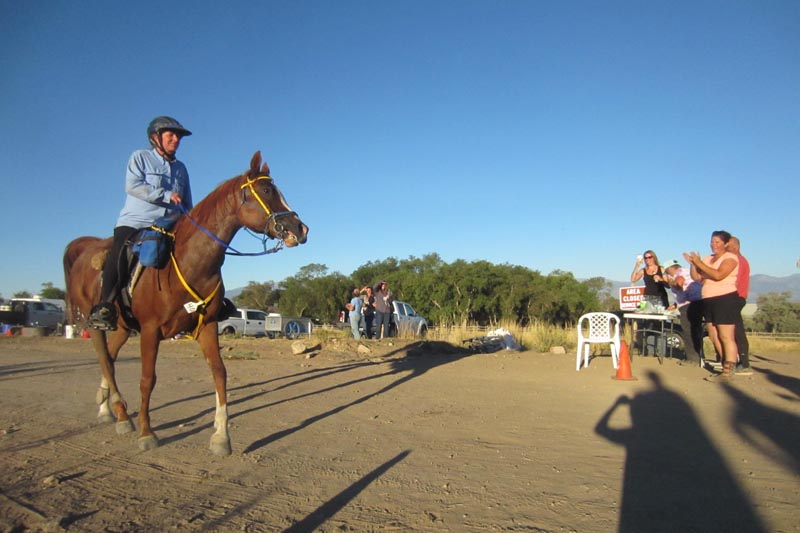 The sun fell behind the mountains, but it was still daylight when, at 6:52 PM, Leah Cain and OT Dyamonte Santo crossed the finish line in first place, in a ride time of 10:32. The pair was 2 minutes ahead of Pam Bailie and Bailie Skrit Ablane, and Junior Anya Levermann and Monk. Suzy Hayes and Greenbriar Al Jabal came in 4th, in a ride time of 10:51. Leah was first Lightweight, Pam was first Featherweight, Anya was first Junior.
There was almost an hour gap to 5th place Ann Hall (12,000 miles) and HCC Zara RR, 6th place Jennifer Waitte (10,000 miles) and M Dash Czoe, and 7th place Melissa Ribley (21,000 miles) and Ever Ready, in a ride time of 11:48. It was Jennifer's 23rd 100 mile completion, and Melissa's 53rd 100-mile completion.
Christoph Schork (30,000 miles) and GE Pistol Annie, coming off a 50 mile win at the Grand Canyon just 6 days earlier, finished 8th in a ride time of 13:18. Christoph was first Middleweight. Alison Farrin and Shalimar Yukon finished 9th in 13:19. Finishing 10th in 16:09, and first Heavyweight, was Kevin Waters (27,000 miles) and Belesemo Impressario. It was Kevin's 37th 100-mile completion.
The next three to finish, in 17:48, were a picture of perseverance. Junior Alex Niehaus and Airborne, her grandmother Joyce Sousa and LV Integrity, and Kecia Smette and LC Tripleplay, were worth waiting up for. Leaving the last out vet check, Joyce and Alex actually went off trail up on the mountain - not their fault, because some kind bicyclists had pulled over and stopped to let them by - and had stopped in front of the red pie plate indicating a turn. People far below in the vet check actually saw them going the wrong way, and a series of frantic texts were sent to Joyce, but Joyce didn't see them until they'd gone several miles out of the way. So you can call that a 105+ mile ride they completed!
The completion was Alex's 5th 100-mile ride of the season. When I need advice on how to ride 100's, I am going to talk to 15-year-old Anya Levermann and 14-year-old Alex!
LV Integrity: what more can be said about this 23-year-old Hall of Fame horse that hasn't been said already? This was his 40th 100-mile completion, out of 46 100-mile starts. Some horses don't have an entire career with a record of 40 out of 46 starts at any distance. His mileage stands at 9845 miles over 18 seasons. No wonder he's in the Hall of Fame. (To read more on Joyce and LV Integrity, see
From Bucker to Blessing, written after he reached 9000 miles last December.
)
Not to mention it was Joyce's 90th 100-mile completion, and she has two horses in the Hall of Fame (Ritz and Jim Bob), but this 24,000-mile rider would always rather talk about her amazing horse anyway.
LC Tripleplay, on the other hand, completed only his second 100-mile ride in the Championship. But who knows, Ritz probably gave him plenty of endurance tips on the trail under the moonlight!
The final rider was Robert Ribley and Regret, a leggy handsome 17-year-old chestnut gelding in his 10th season of endurance, who is now 5 for 5 in the 100-mile ride department. Not to mention Robert is another AERC Hall of Famer (Pard'ners Award in 2009 with Tari), a 35,000-mile rider, and it was Robert's 96th 100-mile completion.
Next morning, 6 of the Top Ten horses showed for Best Condition: Leah Cain and OT Dyamonte Santo, Anya Levermann and Monk, Suzy Hayes and Greenbriar Al Jabal, Ann Hall and HCC Zara RR, Melissa Ribley and Ever Ready, and Christoph Schork and GE Pistol Annie.
It was Leah's OT Dyamonte Santo who won Best Condition, and Melissa's Ever Ready who won High Vet Score.
So it was a small but excellent field of horsemen and horses who contested the 2016 AERC National Championships at the beautiful, unique, and challenging Antelope Island State Park. Head vet Olin Balch complimented the horses and riders at the awards ceremony. "You all did a fabulous job as riders. There were no treatments on the 50 or 100."
Though Dudley and I finished next to last on the 50 on Thursday, it truly was an honor to be in such estimable company on the endurance trail.
top photo: Leah and Santo trotting out at the out vet check