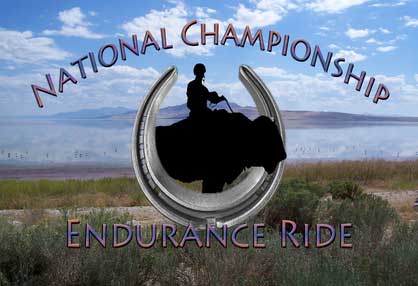 September 6 2016
by Merri Melde-Endurance.net
There are always many sponsors that contribute to the annual AERC National Championships, and this year's edition at Antelope Island State Park in Utah is no exception. With participation and completion awards, riders from the winners to Top Tenners to Turtles benefit from the sponsors that help keep the sport fun and rewarding.
"The generosity of our sponsors for the AERCNC has been phenomenal," said ride manager Jeff Stuart. "We couldn't put on our endurance rides, and in particular, the AERCNC, without them. The riders are the benefactors, and their participation supports our sponsors." It's a Win-Win occasion.
"The generosity of companies has indeed been wonderful," added assistant ride manager Tonya Stroud, who, along with Shirley Fox Brown (also assistant ride manager), have been working non-stop with the sponsors and awards for months.
Sponsors for this year's AERC National Championships include: Hammer Nutrition, EasyCare, Redmond Salts, Rockin S Performance Horses, DWA Arabians, Vettec, Valley Vet, Home Depot, Purina horse feeds, endurance rider Chris Yost, Riding Warehouse, Arctic Horse, Saddle-Up, Crazy Legs Tights, Kerrits, IFA, Sox for Horses, Equipedic Saddle Pads, and American Trail Gear. Patty and Tonya are creating and donating special awards, and more are still coming in.
For more information on the ride, see:
http://antelopeislandride.weebly.com/national-championships.html
Coverage for the event will be at:
http://www.endurance.net/international/USA/2016AERCNC/