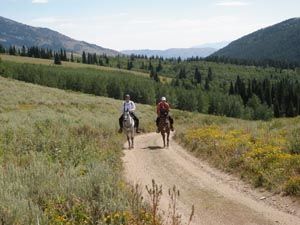 August 28 2013
The 50-mile course, and the first 50 miles of the 100-mile course, for the 2013 Vettec AERC National Championships that will be held on September 20 and 22 near Almo, Idaho, is a hit.
Day 5 of the
City of Rocks Pioneer Trails Endurance ride
held on August 6-10 was a test ride for the National Championships.
"It's absolutely beautiful!" exclaimed Heidi Skerratt, riding Gold N Beaudayshus at 8500', the highest elevation on the trail. "I could ride this trail every day and not get tired of it!"
Many riders echoed that sentiment at the splendid scenery that followed them with every foot in elevation gain throughout the ride.
It will be a challenging 50 mile trail: horses begin at 5318' at base camp outside the spectacularly scenic, geologic, and historic
City of Rocks National Reserve
, and climb to 8513', with a total elevation gain/loss of approximately 6500'. Trails will take riders over the historic California Trail, the Salt Lake Cutoff Trail, and Boise-Kelton Stage Routes, through the National Reserve and up into the Albion mountains in the Sawtooth National Forest. 38 of 42 riders completed this 50-mile trail, with the winning time 5:25.
For more information and to sign up, see:
http://www.endurance.net/AERCNC2013/
.
For a preview of the trails on the 50-mile ride, and the first half of the 100-mile ride, see the new video:
or link:
http://www.youtube.com/watch?v=c_mPouLeZb0