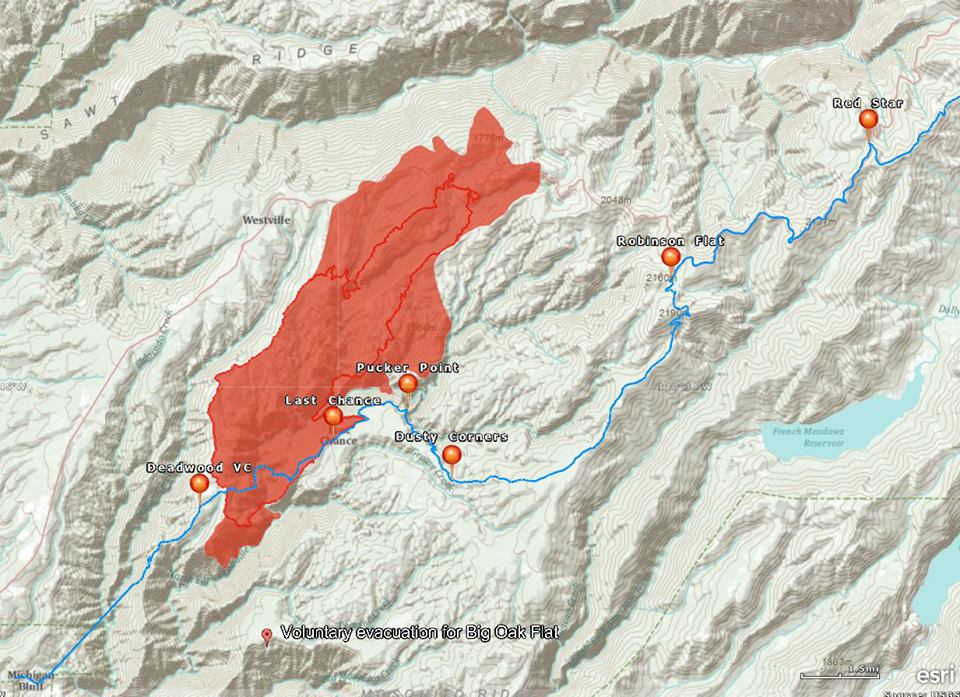 August 18 2013
via Lucy Trumbull
Today's perimeter (yesterday's is the thick red line).


There is now a voluntary evacuation for the few houses at Big Oak Flat off Mosquito Ridge Road to the SE of the fire. There's absolutely no access to the area south of the fire and the canyonsides are near vertical in places, so I hope this is just a precautionary thing and not an indication as to what they think will happen. 


I'm guessing the new fill in to the NW (Macedon Ridge) over to Deadwood Rd (very north end of DW Rd which runs along the west perimeter of the fire) was expected, but the growth to the NE was a big disappointment to them, as they hoped to hold it at Foresthill Road (photo taken from Sawtooth Ridge to the north of Foresthill Road:
http://www.flickr.com/photos/yubanet/9535202340/in/photostream/
).


There were photos from two days ago from American Hill Rd (now vastly widened by bulldozer - suspect it was little more than a track prior to then) -
http://www.flickr.com/photos/yubanet/9534271420/in/photostream/
- not sure if this is them setting backfires or if that's the forward front of the fire coming up the ridge. American Hill is the ridgelet ending where the "P" of Point in Pucker Point is. Unclear if they were successful in stopping slop over but from today's perimeter it would appear not - it has started down the east flank of the ridge.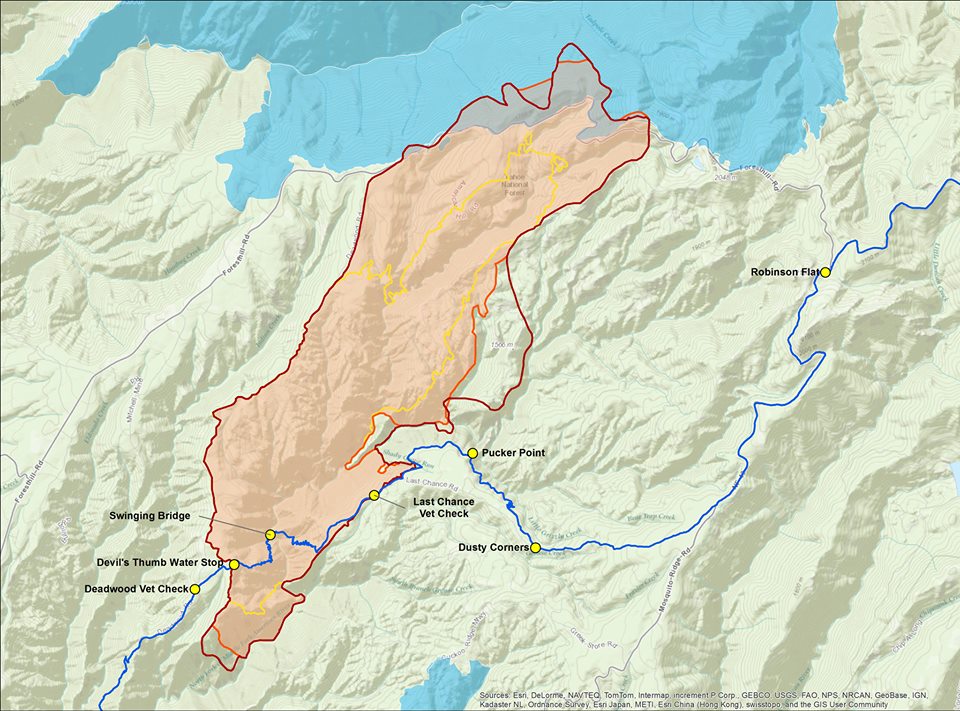 Here's another one showing the progression:
Yellow = 16th
Orange = 17th
Red = 18th
Blue = American River Complex fires from 2008
Looking at this map, my sense is that it could go up Screwauger Canyon (that large canyon that runs NE to the "R" in Robinson Flat, and possibly fill in the whole area between there and Foresthill Road.
There's a bit more access to the area south of there - Barney Cavanaugh Ridge (where the Tevis Trail used to be routed until it go so rocky), so hopefully they can slow it there?