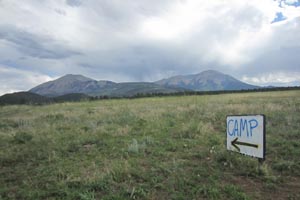 www.endurance.net/international/USA/2017AERCNC/
August 17 2017
Starting tomorrow (Friday) at 7 AM, 35 riders will leave the starting line of the 50-mile ride near La Veta, Colorado. We have one Junior riding (Taylor Fisher). 4 of the riders are Open riders, who will start after the Championship riders (and will pick up Taylor anywhere along the way, if her sponsor can't continue).
First loop is 17 miles, with an out vet check and hold of 1 hour, then a 15-mile loop back to camp for a 45 minute hold, then a final 18 mile loop back to camp for the finish.
"It's a tough, technical trail," said ride manager Tennessee Lane. "You'll have some steep climbs and steep descents, and some places you'll be able to move out on. Go slow where you need to go, and move out where you can.
"And have fun. We do this because we enjoy it."
"Ride safe, ride smart," head veterinarian Tom Courier said. "This ride is in the true spirit of endurance. Take care of your horses."
I'll try to send out updates and keep you up to date of at least the top ten throughout the day, and the pulls. Updates will be at:
www.endurance.net/international/USA/2017AERCNC
Ridecamp:
http://www.endurance.net/RidecampFriend/
Twitter:
https://twitter.com/endurancenet
@endurancenet
Facebook:
https://www.facebook.com/wwwendurancenet/