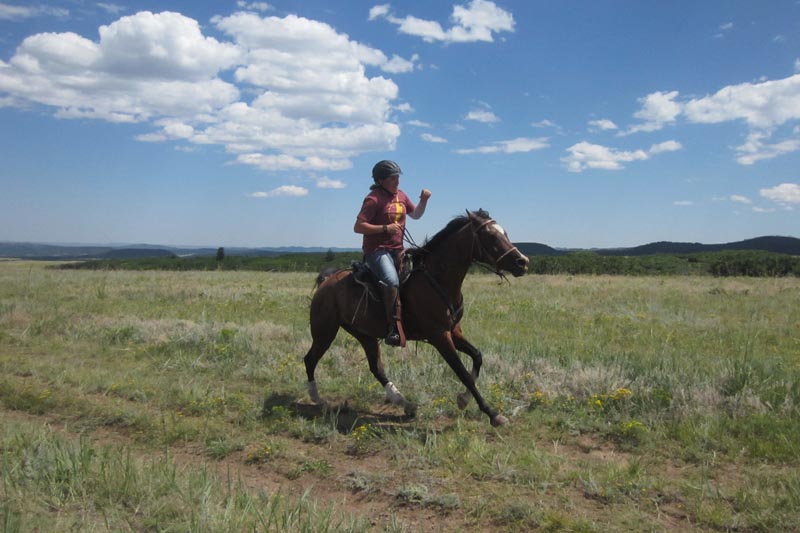 August 18 2017
by Merri Melde-Endurance.net
Local riders took 3 of the 4 top spots in the AERC National Championship 50 mile ride in La Veta, Colorado, on August 18, 2017.
Sami Browneller, 30, of Monument, Colorado, and her mom's 6-year-old Arabian gelding Kaytwo won the 50 miler in a ride time of 4:32.59. Sami was also first Lightweight. 16-year-old Cassidy Jaksch, from Sedalia, Colorado, finished second aboard her 10-year-old Arabian gelding Give Us a Kiss in a ride time of 4:45.04.
Third place Jennifer Poling and her 12-year-old Arabian gelding Eagle Baikal travelled to Colorado from West Virginia for the Championship. They finished in 4:45.06. Jennifer was first Featherweight.
Fourth place went to Sami's mom Linda Browneller and her 18-year-old Arabian gelding Khaaruso in 4:51.06. Linda was first Middleweight.
Fifth across the finish line was Jessica Woolery and WA Borkata, who was unfortunately pulled at the final vet check.
Fifth place went to Cheryl Van Deusen of Dayton, Florida, riding Jeff Stuart's 10-year-old Arabian gelding DWA Malik, in a ride time of 5:14.30. This pair *just* nipped Canadian Elroy Karius and his 15-year-old Arabian gelding Jolly Holiday at the finish line.
Seventh place went to Jeff Stuart of Utah and his 13-year-old Arabian gelding JV Remington in 5:14.33. Jeff was first Heavyweight.
Eighth place was Bill Fuller and Emmie Lou in 5:14.40; ninth was Tammy Gagnon and Ginger Rogers in 5:26.15; tenth was Carla Lackenbrink, riding Christoph Schork's RR Jazz Dancer in 5:28.29.
First and only Junior finisher was Taylor Fisher of Aurora, Colorado and Kenlyn Kourvy. Her sponsor was Steve Downs riding Kenlyn Porsche.
Best Condition went to Jennifer Poling and Eagle Baikal.
31 out of 34 starters finished the ride. 4 open riders completed. Of the 3 pulls, 1 was a Rider Option, 1 was Metabolic, 1 was Lame.
Photos of the day, and more stories and photos at:
www.endurance.net/international/USA/2017AERCNC