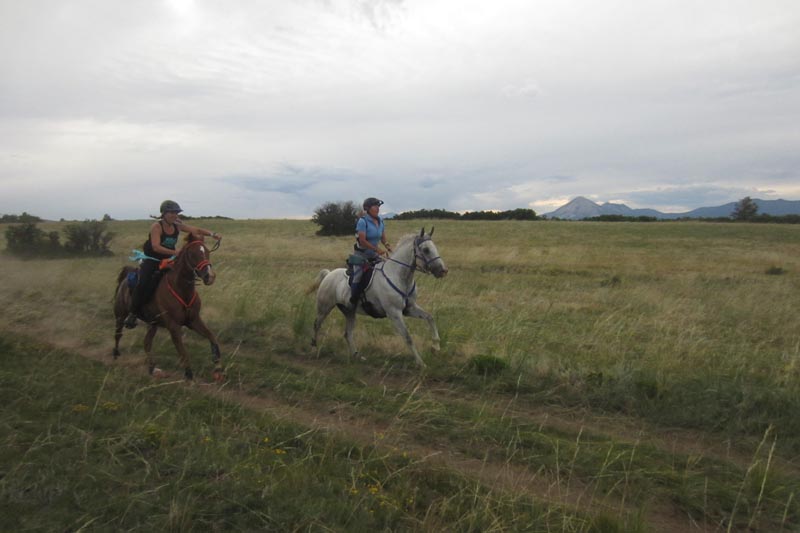 August 20 2017
by Merri Melde-Endurance.net
Gwen Hall, 51, of Woodland Park, Colorado, and her 11-year-old Arabian gelding Sizedoesntmatter won the 100-mile AERC National Championship Sunday in La Veta, Colorado. The duo won by a head over Hannah Pruss and Stuart (the one-eyed horse) in a ride time of 11:21.17. Gwen was also First Featherweight; Hannah was First Middleweight.
The two ladies rode together much of the day. By mile 56, they had outdistanced the next riders by almost an hour, and they increased their lead the rest of the ride to 2 1/2 hours at the finish.
Christoph Schork, of Moab, Utah, aboard GE Stars Aflame, finished third in a ride time of 13:53.20 (*my math is suspect this time of night*). Carla was First Lightweight.
German Carla Lakenbrink, riding Schork's Medina MHF was 4th in 13:53.30*.
Fifth place went to Gunnar Frank, of Vinita, Oklahoma, and Trinity, in a ride time of 15:17.10*. Gunnar was First Heavyweight.
4 riders were still out on course at 10 PM.
Three horses were eliminated in the first mile of the first loop after an unfortunate trail snafu and a couple of unplanned, forced dismounts in the dark: Alanna Frank's Maverick, Connie Caudill's Tans Terminator, and Lois McAfee's Macho Man. Tans Terminator and Macho Man were lost till daylight, but the 3 horses received only minor injuries, and the riders are fine.
Tammy Gagnon and Secret Lover dropped out after the first 24-mile loop. They passed the vet check, but the mare was uncharacteristically ADR - Ain't Doin' Right, so they pulled.
Marcella Hughes and her gelding Oliver Swift made it to 89 miles, the last Gate and Go vet check, before a hind end lameness took them out.
Best Condition judging is at 9:30 tomorrow morning, more to come.
Photos and results and more (videos coming!) from the day, and every day at the AERCNC, at
www.endurance.net/international/USA/2017AERCNC