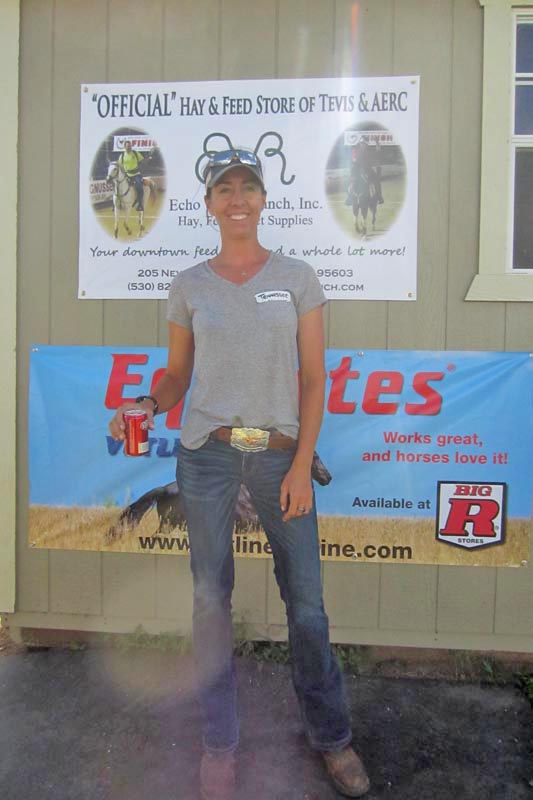 AERC NC Nuggets are Short Soundbites from the 2017 AERC National Championships!
by Merri Melde-Endurance.net
August 22 2017
She calls this southwest corner of Colorado "God's Country."
Why?
"You'll know why we call it God's country when you get here," AERC National Championship ride manager Tennessee Lane said.
Indeed, the scenery and terrain of the 2017 AERC National Championships outside of La Veta, Colorado, are impressive. Los Cumbres Espanolos, the two 12,000 and 13,000-foot Spanish Peaks, tower above Ridecamp for the Spanish Peaks endurance rides and this year's AERC National Championships.
National Forest land covers the upper thousands of feet of the peaks, and ranchers own the lower graze-able mesas and grass lands, over which the entire 50-mile and 100-mile AERCNC rides took place, 130 miles of unrepeated trails. Tennessee had to bend over backwards to keep the ranchers happy to use these private trails - over 20 local ranchers allow Tennessee the use of their lands - and one can only ride these trails during her endurance rides.
Tennessee's ridden some 9700 AERC endurance miles since 2006, but she only started hosting endurance rides in God's Country in 2016. Her
SoCo Endurance
was an ambitious project, putting on a tough mountainous 2-day ride in June and a 25/50/100 in September, and this year a 3-day ride in June and a 2-day in July. It was one of the reasons AERC approached her to put on this year's National Championships in August.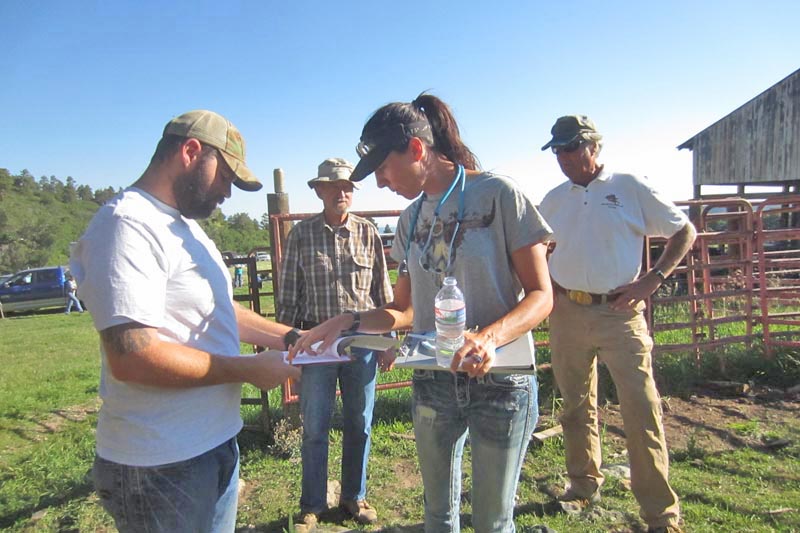 Constricted by hunting dates (bow hunting season started a few days after the NC, and hunters were afraid the horses would scare the game off their game trails), August 18-20 was the only weekend Tennessee could host the National Championships. And the event happened to fall at a very busy time: two weeks after she rode in and won the Tevis Cup, which was 2 weeks after she put on her July ride.
Talk about pressure. "Yeah I'm a little crazy," she said. "But… it should be easier than putting on multi-days rides with multi-distances, right? I'll catch up on my sleep in the winter."
A microbiologist in a former life, Tennessee has returned to her ranching roots. She manages the family's cattle land/leasing operation in the area, manages another family business, and owns and runs her own
Remuda Run Ranch
, where she breeds/trains/sells endurance horses, and offers endurance clinics, hoof boot consultation and services, and, of course puts on endurance rides.
It's great country for endurance ride training. It's where Auli Farwa - Tennessee's mount for this year's Tevis - trained for a couple of months before the pair took the Tevis Cup win on August 5.
"These endurance rides are a true representation of the Southern Colorado Rockies," Tennessee stated, "with miles of fast, flowing sections broken up by challenging, technical stretches and plenty of up and down.  These rides have been thoughtfully designed to be very enjoyable and safe but also stimulating and demanding on endurance athletes both equine and human. They're tough, technical mountain endurance rides."
It's great country for gasping and gawking, too. Riders and horses would experience the lower flanks of the western Spanish Peak, with vistas of the layers of Rocky Mountains to the West and the Colorado plains to the east, and they'd ride through one of the iconic rock walls that radiate out from the peaks.
Altitudes for the National Championships would range from 7000 to 9000 feet. One particular loop would have a 1000 foot drop. "I ride up it to train," Tennessee said. "but I felt it was safer to take riders down the trail."
The National Championionships in God's Country below the Spanish Peaks would serve up scenery, fun, and a challenging endurance trail that tested a rider's horsemanship.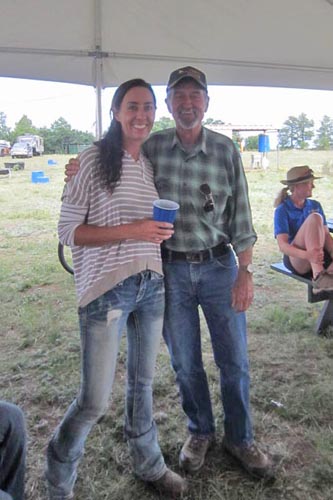 Tennessee and enthusiastic landowner George Albright, who helped build trails and lent his hay field for Albright vet check
More stories, photos and videos from the ride at:
www.endurance.net/international/USA/2017AERCNC